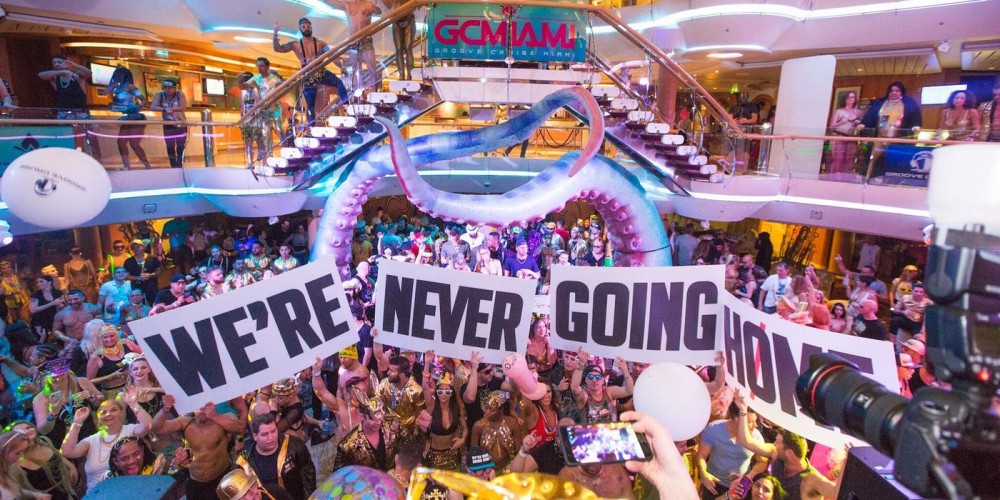 Get ready for your new year to get a whole lot better because Groove Cruise Miami 2019 just announced their phase 1 lineup with a stack killer headliners. Groove Cruise celebrates its monumental 15th anniversary with critically-acclaimed Chicago-bred EDM superstar Kaskade, Egyptian trance duo Aly & Fila, Yorkshire-based house/techno phenom Hot Since 82, Detroit house legend MK (Marc Kinchen), German-born, Miami-based trance icon Markus Schulz, and Irish house music extraordinaire Simon Patterson.
ENTER PROMO CODE EDMTUNES FOR $50 DISCOUNT PER PERSON OR $200 PER CABIN
BOOK HERE
New supporting artists Blackgummy, Eli & Fur, Leftwing & Kody, and Technasia among others also joining. Featured hosted stages include MK's renowned AREA10, Rubber Ducky, Eve, Future Sound Egypt. Returning hosted stages include Incorrect, Never Going Home, Coldharbour, Stereo Productions and Under the Radr.
Here's what's also new for this sailing. Captains will voyage to two new destinations in 2019—the stunning, tropical island Cozumel, Mexico and Key West, Florida. Cozumel's clear aquamarine waters, snorkeling and culinary delights will add an extra layer culture.
Key West is an intimate island hub and favorite Floridian destination. Now departing from the port Ft. Lauderdale, travelling got a whole lot lighter. That is, GC Fam will be able to travel from plane to boat in a matter minutes.
The Infinity is among the first passenger cruise vessels powered by smokeless turbine engines. It holds 2,170-passengers and is elegantly themed with its iconic three-level foyer grand staircase and sophisticated decor. Discover a bevy novelty features including a retro restaurant, Egyptian-themed casino, basketball court, jogging track and shuffleboard. Relax in the indoor solarium and pool or indulge in fine dining.
Live the "suite" life in their penthouses (complete with butler and baby grand piano) to the petite and elegant Sky Suites. This will undoubtedly be the most luxurious festival experience yet. Bookings are still available here.
Check out the Phase 1 lineup flyer below. This is your one stop shop for house, trance, and techno music. More info surrounding on-board activities and artists activations coming soon!