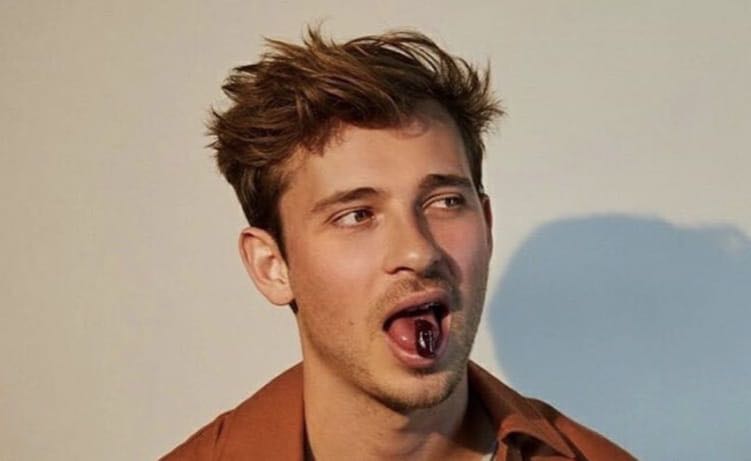 Burning Man is ficially ending today after 10 days in the Nevada desert. While many people are taking home memories that will last them a lifetime, the rest us are still pre-occupied with the video Flume eating his girlfriend's ass, or at least sticking his nose in it, while on a stage at the event.
Two days later, and the news is still going viral — and why wouldn't it? It's the perfect combination absurd (but becoming normalized) act, absurd (but becoming gentrified) setting, and a notable celebrity/musician. Not to mention the news broke on Labor Day and somehow the video became co-opted as a metaphor for American freedom.
EDM DJs in particular had a field day on Twitter referencing the Flume video, as you can plainly see from the over two dozen tweets below. You can see the video, still up on , here.
why does flume eating ass still look mad cute🙈

— BONNIE X CLYDE (@BONNIEXCLYDE) September 3, 2019
all hail the mighty @flumemusic and his trending post burning man monday moment. i'm living for it! YOU GO BOI 🍑

— ooah (@ooah) September 2, 2019
why yall trippin about flume eating his girls ass at one the most freeing and liberating expressive art parties that exist. we all know you would too. let the mans eat

— ooah (@ooah) September 3, 2019
keep liking my tweets & we gonna end up like @flume at burning man

— 𝐊𝐀𝐍𝐃𝐘 (@thisisKANDY) September 3, 2019
Sometimes you just gotta… eat some ass. Well done @flumemusic
Ain't no shame in the ass game LOL

— KJ SAWKA (@KjSawka) September 3, 2019
Every manager to their artist RN: Yo so do you eat ass/dick/lick feet? I have an idea ..

Every girl to their boyfriend this weekend: Yeah but Flume eats ass!

— Naderi (@itsnaderi) September 3, 2019
Someone gotta one up Flume now and have their ass eaten while playing a dj set.

— Cut Snake (@cutsnake) September 3, 2019
DTF?!

down
to
flume

— protohype (@Protohype) September 3, 2019
This Flume ass nose dip bout to start a chain reaction EDM voyeurism 😂

— Ekali 🥀 (@EkaliMusic) September 3, 2019
Crazy Flume ate ass at burning man & it's already old news the internet is a ruthless bitch fr

— ⛽️ Styles & Complete ⛽️ (@stylesNcomplete) September 3, 2019
eating ass at burning man seems unsanitary flume

— 😛 (@joshpan) September 2, 2019
djing is so hard nowadays

if you wanna top flume, you probably have to eat your own ass after you do a backflip while dropping 3 tracks simultaneously

who gonna do it

— 😛 (@joshpan) September 3, 2019
Flume is out here eatin ass on stage while I try to work up the courage to tell the restaurant lady that she messed up my order

— SMOKING WITH FRIENDS OUT NOW! (@_bluntsnblondes) September 3, 2019
the new Flume live show looks kinky

mans not afraid to explore unknown depths

— Litty Kitty (@HexCougar) September 2, 2019
flume eating ass at burning man

-a MOOD

— SPACE YACHT (@spaceyacht) September 2, 2019
Thought Flume was trending bc new music

Nope 🍑

— Dani Deahl (@danideahl) September 2, 2019
I hope the first time I go to burning man flume eats my ass lmfaoooooo

— WHIPPED CREAM (@WHIPPEDCREAM) September 2, 2019
Crazy that Flume invented future bass AND eating ass, truly a visionary

— ʟᴜᴄᴀ ʟᴜsʜ 🌺 (@LUCALUSH) September 2, 2019
Excited for the Flume and brazzers collab

— Lost Kings (@wearelostkings) September 2, 2019
Flume eating ass on stage is the best thing to happen in EDM in years

— SHIP WREK (@ShipWrekDJ) September 2, 2019
flume: a pioneer and visionary music producer who helped bring catchy yet hard hitting, experimental electronic music to the masses

also flume: 👅💦🍑

— Brownies & Lemonade (@TeamBandL) September 2, 2019
whoever put flume on blast with those videos sucks at burning man. it goes against the entire ethos the event to film someone wildin out like that

— bleep bloop (@bleepbloopbass) September 2, 2019
The best part flume eating ass on stage is his chocolate mustache

— Crizzly (@CRIZZLY) September 2, 2019
Fr tho flume is the GOAT for this

— Borgore (@Borgore) September 2, 2019
If flume putting his nose in his girls butt means eatting ass than i've been taken advantage lmao

— promnite (@promnite) September 3, 2019
if flume can eat ass on stage I'm allowed to use hentai visuals

— LICK 👅 (@iamlickx) September 2, 2019
Flume said 💩👅😈

— Electric Hawk (@Electric_Hawk) September 2, 2019
wait flume was trending? wh-

— SLUSHII「スラちゃん」 (@SlushiiMusic) September 3, 2019