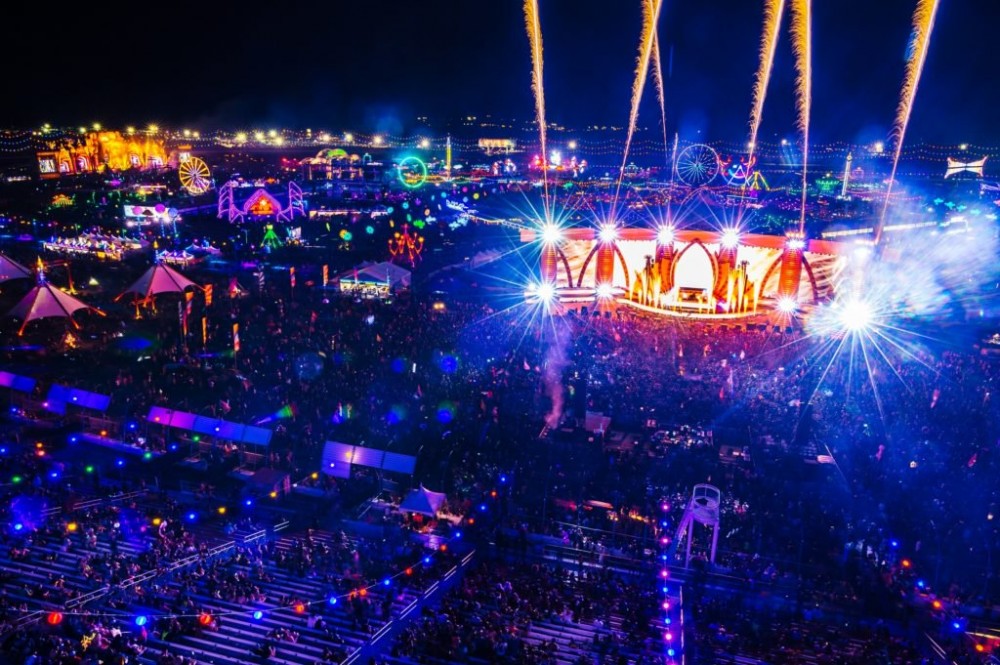 List composed in collaboration by Cody Smith & Mark Fabrick
In just under one week, EDC Vegas returns… hyped yet? The massive festival will once again take place at the Las Vegas Motor Speedway, bringing along a stacked lineup, immense production and lights on lights on lights. Insomniac has released the lineup by stage, but as you can see, it's going to be challenging to pick among your favorites.
The schedule has just been released, and Your EDM now has you covered with a must-see guide. We somehow narrowed the list down to 20 artists, ranging from favorites like deadmau5 to up-and-comers like Ducky. Check our picks below, organized by day.
Friday
deadmau5
For a while there, deadmau5 and Insomniac boss, Pasquale Rotella, were beefing. No longer the case, as the mau5 has made appearances at some So Cal Insomniac fests over the past year and a half. But, this is something else, deadmau5 will be performing at EDC Las Vegas for the very first time (he performed at the final EDC in Los Angeles in 2010), and he'll have all the live elements his Cube 3.0 on display. Hence, why he'll be playing at Cosmic Meadow, and not Kinetic Field. This legendary artist is sure to command a prime slot on Friday night, expect not just the infield grass, but the grandstands to be packed for this one.
Ducky (Live)
Ducky may not be a household name, but she has more rave cred than most. The producer/DJ has been in the scene for years, but she has finally gotten her due. With a sound crossing dreamy synths and vocals with percussion straight from 90s rave tunes, Ducky melds nostalgia with progressive production. She debuts her new live show this year, and the Cosmic Meadow stage will be one the show's lucky stops. Plus, with a new EP and new singles from this year out already, we can expect a lot new music from her show.
Eric Prydz
Eric Prydz is one those legendary artists who is a yearly fixture at EDC. So, why can't you miss him? Because he always brings the most epic production to the Circuit Grounds every year, and no two Prydz shows are ever the same. The Swedish master was also relatively quiet on the release front this year, as he did quite a bit touring as his alias Cirez D. Last year Prydz unleashed a maelstrom new tracks at his Circuit Grounds set, and I would expect tons new tracks this year as well. Oh, and lasers too, course.
Solardo b2b Idris Elba
EDC has become the top spots for unique b2b sets. This year, we get a once-in-a-lifetime b2b between a massive actor/DJ and a popping tech house duo. Idris Elba, coming f a beloved Coachella set, makes his EDC debut at Neon Garden, a perfect venue for his UK house style. Add in Solardo, known for their tribal tech house, and you've got a stew going. Having either act individually would've been great, but this b2b has promise to be one the best the festival.
Gorgon City (Live)
Gorgon City returns to EDC after their 2018 DJ set, but this set will be the EDC debut their new live show. If you caught the duo at Coachella, you'd know their live set is one the most unique in electronic music right now. Accompanying the duo themselves are singers, instrumentalists and special guests. This live show at Cosmic Meadow guarantees a slam-dunk performance, and we appreciate the live element given the heavy DJ focus this year's lineup.
The Glitch Mob
While it appears we won't be treated to their live show, the fact that the Glitch Mob is playing EDC is still quite the treat. One the most unique acts in the dance music world, the Glitch Mob live show is one a kind and can't be missed. However, that's not to say that their DJ set at the Basspod won't be absolutely insane! Honestly, I could see them playing the sunrise slot, as their smoothly produced tunes would be the perfect way for headbangers to unwind and end Day 1. Also check out this video they posted the crowd at EDC Los Angeles 2007, things have changed in 12 years.
Here we are playing to 11 people on the basspod stage at EDC LA 2007 🤘 never give up. pic.twitter.com/xeoziaHm6s

— The Glitch Mob (@theglitchmob) March 27, 2019
Skream b2b Rusko (Old Skool Dubstep Set)
Another mind-blowing b2b, this time between two the OG pioneers dubstep coming out the UK in the aughts. This set is sure to be a treat for old and new ravers alike as history class will be in session. We know what type tunes to expect, but we have no idea how this will all be presented. This is definitely a reward set, so I'd expect this as one the later sets the morning at Basspod (maybe right before Glitch Mob, maybe right after.)
Saturday
Chris Lake Presents Black Book
Chris Lake is one the big artists leading the accessible house and tech sound. His style dominated much EDM's direction in 2019. And while you can check out a regular Chris Lake set at Cosmic Meadow, there's a deeper set waiting for your discovery. Chris Lake will present his Black Book show at Stereobloom, a smaller but fitting stage for his deeper tunes. Lake toured the The Black Book Experience last year, but this marks one the set's biggest platforms yet.
Ferry Corsten Presents System F
We had to highlight at least one trance set for this weekend, especially since the Quantum Valley stage is expanding to a mega structure this year. This would have to be a set worth checking out as one the pioneers trance performs one his most sought after sets. System F is course Ferry's harder trance alias, so if you're looking for something that's less vibes and more groove, this might be it for you. Either way, Quantum Valley was an awesome stage last year, so it's definitely worth checking out.
Get Real: Green Velvet & Claude VonStroke
Deeper sounds are slowly returning to Kinetic Field. The stage used to include some deeper artists, but veered back to mainstage-friendly EDM recently. But, this year marks the glorious return the deep end to the stage, and Get Real should go down as one the best sets. The duo comprises the legendary Green Velvet and Dirtybird label boss Claude VonStroke. Both artists have championed the accessible sounds house and tech, so this set could help unknown ears make their way to the deeper side the pool.
Martin Garrix
The #1 DJ in the world has also been a constant fixture at EDC over the years, however Martin doesn't usually play Kinetic Field. For the third time in four years, he'll be taking his breathtaking visuals and lasers to the Circuit Grounds. If you watched his closing performance at Ultra Miami this year, you know the young Dutchman pushed the absolute limits what the stage was capable doing, and he should be doing the exact same thing at EDC. There is nothing like seeing lasers launched into the night and the fireworks the electric sky. Safe bet you'll see all that at Martin's set on Saturday in what should be a prime time slot.
ARTBAT
EDC loves to sneak in some shocking artists to its lineup. One the best examples this year is house and techno duo ARTBAT. EDM fans may not know their name, but the Ukrainian duo has risen quickly over the past year. If deadmau5 plays your songs in his Essential Mix episode, you know they're worth checking out. ARTBAT will play Neon Garden on Saturday, and we're curious to see how they adapt their set to the EDM festival crowd.
RL Grime
The king trap is returning to EDC, and this is sure to be a titanic performance. Last year saw him release his highly acclaimed album NOVA as well as launch his own label, Sable Valley. Needless to say RL should have a bevy new music, IDs and remixes to share with the crowd. However, the versatile producer is not just a star in the EDM world; RL has collaborated with some the finest in rap and hip-hop, so it's seems like a safe bet that there might be some special guests at his Kinetic Field set (he brought out R&B singer Miguel in 2017).
REZZ
REZZ remains one EDM's greatest success stories. Her rise to prominence was well deserved after her slew original tracks and remixes, not to mention the growth her live show. Last year she released her new album Certain Kind Magic a few months after EDC Vegas, so fans heard got some sneak peeks. However, this year we can hear the full brunt her new material at Circuit Grounds. We might even get lucky to hear some new music as well.
ZHU
Dance music's man in black will make his EDC debut at Cosmic Meadow. Let's face it, EDC is a festival based around DJs, but live dance music has really been coming along lately, and it's reflected in this year's lineup. ZHU put out his masterful album, Ringos Desert, last year, so I would anticipate a lot songs that album. ZHU always has a live guitarist and saxophonist in tow for his sets, and the Cosmic Meadow looks to be the main setting for live music this weekend. ZHU's dreamy, ethereal, and sensual sounds certainly set the mood, depending upon his time slot, Ringo's Desert might be an actual oasis at EDC as a way to get away from all the craziness inside the festival. That grass is comfy, and sitting in the grandstands and vibing out is also a nice treat.
Sunday
Amelie Lens
No artist better epitomizes the breakneck rise fame than Amelie Lens. The techno producer/DJ blew up the past two years, becoming one Drumcode's shining stars. It's only fitting Lens plays at Neon Garden as part Adam Beyer Presents Drumcode. Even fans other genres could appreciate Lens sets: massive drops, hard drums and catchy, nuanced melodies. It's wonderful to see a prominent woman gain such traction, and EDC could introduce her to even more fans.
Jamie Jones
For the past few years, Jamie Jones has hosted his famous Paradise party at Neon Garden. The iconic DJ and producer returns this year, but in a surprising way: on the Kinetic Field. Much like Get Real, Jones' appearance on EDC's main stage reflects a gradual move to showcase different sounds. Jones is already a more accessible artist, so we're curious to hear how he curates his set for the main stage crowd. Also, will be play earlier in the night, or later? Finally, we hope Jones appears for another set, perhaps even at his home turf Neon Garden, but it's cool to see him in a more challenging spot.
ANNA
ANNA has been around for a little while now, but the Drumcode favorite is finally hitting bigger recognition. Her consistent releases, not to mention a remix the year contender for Jon Hopkins, helped raise her priles. Her sets also showcase the best her own productions with fantastic song selection and DJing to boot. She'll play alongside Drumcode label-mates for the record label takeover at the Neon Garden. Girl power is in full swing at EDC this year, and ANNA is definitely a set worth seeing.
Svdden Death
One the fastest rising names in bass and dubstep will be taking over Basspod on Sunday night. Svdden Death has been a Bassrush favorite lately, and fresh f a collab with Marshmello, this heavy producer's star is rising. His set at Basspod on Sunday should perfectly capture what the Basspod stage is all about, head-banging and just obscene rowdiness. This is sure to be one the most packed sets at Basspod all weekend long. Breaking your neck might be an actual risk here.
Zeds Dead
Zeds Dead have been pioneers in bass music for the past decade. So Cal ravers are probably used to seeing them at HARD Summer, and HARD is hosting Cosmic Meadow. However, Zeds Dead will be afforded a different crowd and the ability to dazzle with incredible visuals as they take over Circuit Grounds this year. The Canadian legends bass should have a ton new IDs and remixes as they've been putting in work, like they always have, both creating and cultivating music. The Circuit Grounds should provide an epic setting for one the most iconic acts in not just bass music, but dance music too.
Photo Jake West for Insomniac