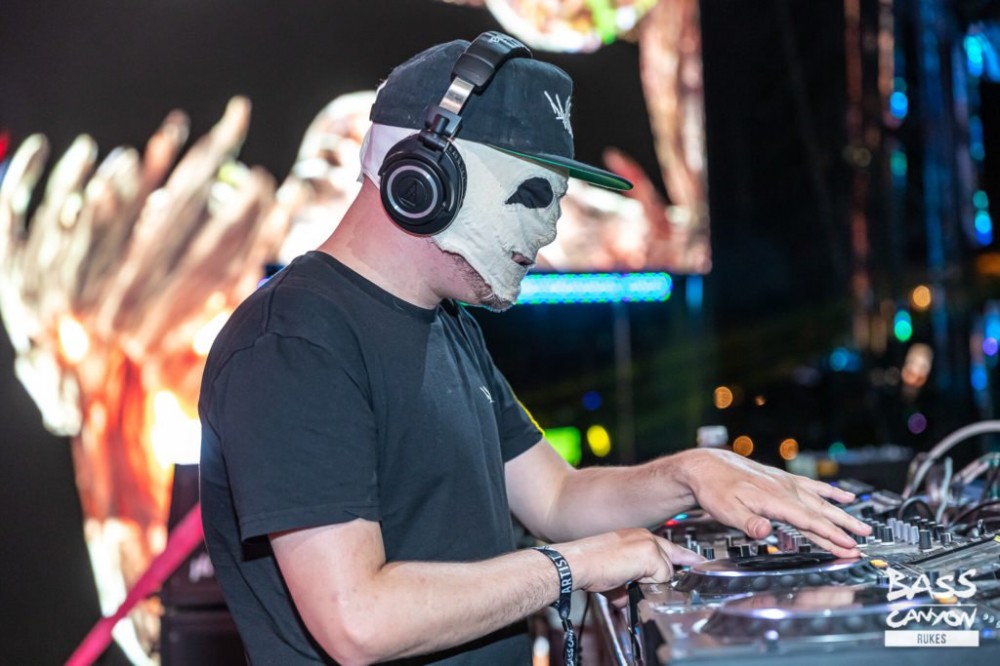 It's been six years since the last FuntCase EP, but the UK dubstep producer is ready to enter the Next Chapter with his new release, out now. Containing already-released songs "Death Stomp" and "Get Em," the EP also introduces a new side to Funty.
"Without" is, by all accounts, the first melodic dub song that FuntCase has ever released. Teaming up with Dani Poppitt, it opens with a st piano melody and uplifting vocals — not your typical FuntCase song by any means. And if you were expecting it to switch back when the drop hit, think again. Yeah, it's still plenty heavy, but the melody carries throughout.
This is followed up by "Devastation," which is definitely more in Funt's regular wheelhouse. Dark, foreboding bass hits clue you in to grab your seat and strap in. Heavily textured stabs and wild bass hit even harder after the melodic "Without," giving this one an extra dose  ooomph.
Check out the full Next Chapter EP below, and scroll down to read our interview with FuntCase about the EP and the next chapter in his career.
The title the EP, Next Chapter, must not be a coincidence. Does this represent a next chapter in your career?
Most definitely. This represents a hell a lot in terms FuntCase. My management team has since grown, and with that there has been more emphasis toward the brand. I have a new look with the mask and logo and I finally have an EP out 6 years after the last one. Things are really starting to happen for me now and it's a new chapter.
To the best my investigative abilities (listening through your discography on Spotify), you've never released a sort melodic banger like "Without." What led you to produce it in this way and what sorts challenges did you have with it, if any?
I've released remixes melodic styles but yeah not an original really. To be honest I've written intros like these constantly for fun but never pursued finishing them or even adding them to a dubstep drop, this one was a merge two ideas.
I was working on the drop once after making the main bass in a remix I was doing that sounded sick but didn't fit the remix itself. I then played riffs on my midi keyboard and this one just happened. The intro was just me messing around making emotional pop songs for fun like always and they ended up fitting together.
Is the devastation "Devastation" intentionally more devastating having it come after "Without"?
Kind yeah haha!
Will these tracks be part DPMO Vol. 3?
That's still yet to be figured out, I'd ideally like some freshies on there my own tho!
What are some new names you see popping up that might be featured on volume 4 (if volume 3 is already locked in)?
Well DPMO Vol 3. isn't actually ENTIRELY complete but there are some VERY sick new producers on there, one which being this new guy 'Versa'. I have a track with him on the EP called Death Stomp, which was also released as a single on Circus and his style is so epic. He literally came out nowhere. He's like a love child Phiso and Marauda (formerly Mastadon) and honestly I'm seeing big things for this kid. There's also some well known DPMO family names on there including SweetTooth and Definitive and honestly I'm mega hyped for this one. It always scares me once a DPMO compilation comes out because I always think HOW do I match that? Or better yet even top that? Then I realise there's an insane amount producers out there and I'm Gucci! Haha.
Photo Rukes.com