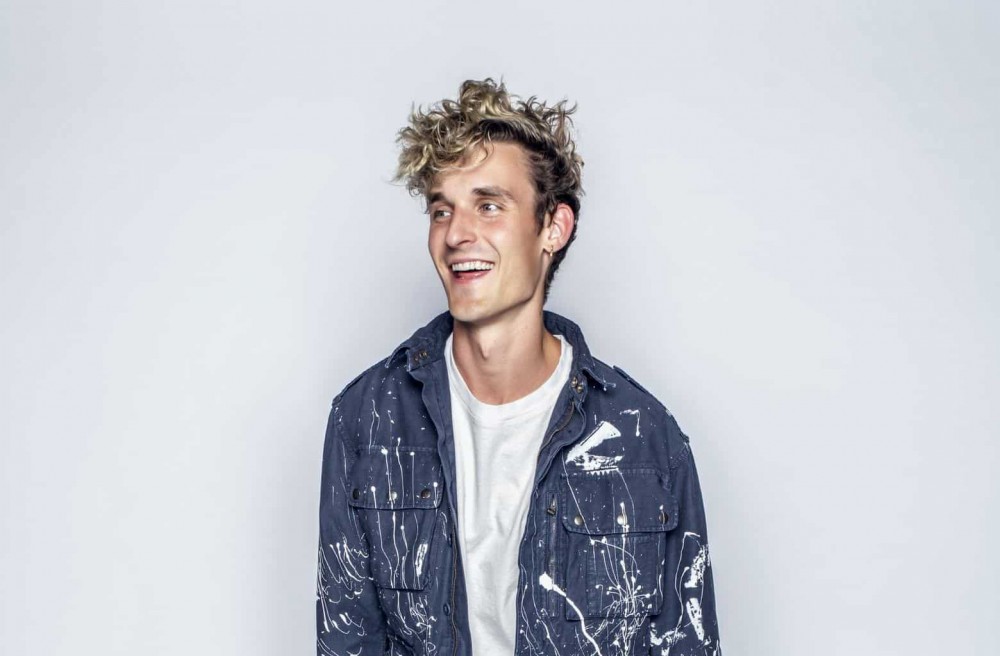 Multi-instrumentalist producer and performer GRiZ has released his fifth studio , Ride Waves and it does NOT disappoint. Drenched in the creative passion and cultural connectivity the artist, the sees GRiZ immerse himself into the soundscapes his influences and the causes today.
Everything that GRiZ does encapsulates a feeling. Whether it be the heartache tragedy or the thrill success, every sentiment, commitment, or track he makes embodies just how it feels to be a human under the weight modernity. The result is an artist, producer, philanthropist and LGBTQ advocate living a legacy love and positivity.
Ride Waves is the culmination the last two years for GRiZ––a period pillared by his own creative exile, high impact socio-cultural issues, and a slew communities and relationships in which he has embedded himself.
Grant armed the album with a multitude genres; not as a spectator, but instead, he sunk himself into these societal landscapes to produce something as authentic as it is timely. He tapped hip-hop favorites like Wiz Khalifa on "Find My Own Way," DRAM for "It Gets Better," Funk-icon Bootsy Collins on "Bustin' Out" and Matisyahu for their Reggae hymn "A New Day". His sonic journey touched down in New York's urban core to record with the Harlem Gospel Choir, stepped into Chicago's South Side to collaborate with a children's choir, and spanned across many sessions in New Orleans. Snoop Dogg even lent a hand in creating My Friends And I Pt. 2.
There's truly something for everybody in the album. Each song tips a hat to Grant's personality, and many parts this represent moments reflection. GRiZ and Matisyahu were in the studio soon after last year's Parkland shooting, and wrote a song about gun violence, "A New Day," became it. The song was matched with a video which features stories from multiple people impacted by gun violence.  Grant, in partnership with Brady, used the video to encourage fans to unite against gun violence by asking their federal representatives to pass universal background checks.
Stream/Purchase 'Ride Waves' Here: http://smarturl.it/RideWavesGRiZ
Ride Waves comes paired with a world tour, which will kick f at the beginning May and will see him touch down everywhere from Brooklyn to The Netherlands, to the eclectic stages Shambhala, Firefly, and lastly, Bonnaroo where he has the honor curating this year's Superjam.
GRiZ is a youth culture hero; he lives and breathes to better the communities around him not only through his art but also his actions. Last year marked the five-year anniversary his charitable event series 12 Days Of GRiZMAS – which to date has raised over $100,000 towards music education for Detroit public school students. Adding to this, he recently released his own GRiZMAS cfee blend, which donated all its proceeds to the same cause. Last year in celebration Giving Tuesday, he partnered with Dan Savage's foundation It Gets Better which aims to empower, uplift and inspire the nation's youth members the LGBTQ community. By no coincidence, "It Gets Better" stands as one the foundation's anthems as they prep to continue their partnership later this year.
Ride Waves sees GRiZ enter a new realm production prowess defined by collaboration and an unwavering sense progression. It is from this new vantage point that he is simultaneously connected to both the history contemporary music and its evolution. From here there is only growth, respect, and the refining a new generation.
Stream/Purchase Ride Waves Album: http://smarturl.it/RideWavesGRiZ
Buy tickets at http://www.mynameisgriz.com/tour
Ride Waves Tracklist
01. Can't Get Enough
02. I'm Good
03. My Friends and I Pt. 2 (feat. Snoop Dogg & Prob Cause)
04. Cruise Control (feat. BXRBER)
05. A New Day (feat. Matisyahu)
06. The Prayer
07. It Gets Better (feat. DRAM)
08. Bustin' Out (feat. Bootsy Collins)
09. Caught Up (feat. Muzzy Bearr)
10. Maybe (feat. Yoshi Flower)
11. The Escape
12. Mercy (feat. Valentina)
13. Barrel Of A Gun (feat. Leo Napier)
14. Find My Own Way (feat. Wiz Khalifa)
GRiZ 2019 Live Dates
April 5th – Sun Peaks, BC – Snowbombing Canada
April 5th-6th – Phoenix, AZ – Phoenix Lights
April 20th – Dallas, TX – Nice Dreams
May 3rd – St. Augustine, FL – St. Augustine Amphitheatre*
May 4th  – Raleigh, NC – Red Hat Amphitheater*
May 6th – Worcester, MA – The Palladium*
May 8th – Albany, NY – Palace Theatre*
May 9th – Buffalo, NY – Buffalo Riverworks*
May 10th – Brooklyn, NY – Kings Theatre* (SOLD OUT)
May 11th – Philadelphia, PA – The Met*
May 14th – Louisville, KY – Iroquois Amphitheater*
May 15th – Columbus, OH – Express Live!*
May 16th – St. Louis, MO – The Pageant*
May 17th – Minneapolis, MN – The Armory*
May 17th-19th – Gulf Shores, AL – Hangout Fest
May 18th – Kansas City, MO – CrossroadsKC*
May 27th – Detroit, MI – Movement
June 9th – Chicago, IL – Spring Awakening
June 14th – Manchester, TN – Bonnaroo
June 21st – Heber City, UT – Bonanza Campout
June 23rd – Dover, DE – Firefly Music Festival
July 5th – Liempde, NL – We Are Electric
July 10th-14th – Dour, BE – Dour Festival
July 12th – Bristol, UK – Nass Festival
August 2nd-4th – Montreal, QC – Osheaga Festival
August 9th-11th – Salmo, BC – Shambhala Music Festival
* = support from Yung Bae & Dwilly