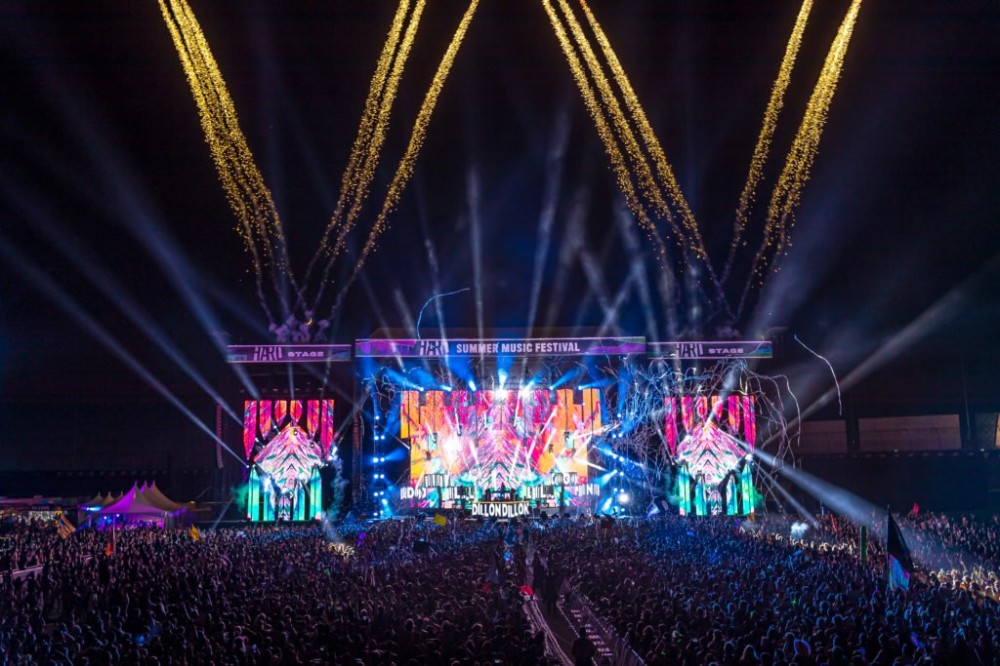 The 12th edition Southern California's venerated HARD Summer Festival went f last weekend at the Auto Club Speedway in Fontana and it lived up to its usual high level excellence. Featuring incredible performances from a vast array dance and hip-hop artists including EDM heavy hitters like Dillon Francis, Kayzo and RL Grime, special b2bs like DJ Snake b2b Malaa and Excision b2b NGHTMRE, hot up and comers like Blanke and Graves, and urban hitmakers Juice WRLD and Soulja Boy. HARD Summer always has something to appeal to a wide array musical tastes, and this year was no different.
HARD is a long running festival but it's never had the steadiest hand. This year's edition marked some long desired stability as this was the second year HARD Summer as an ficial Insomniac festival. This also marks the first time since HARD Summer left LA State Historic Park that the festival has taken place at the same venue in consecutive years. Despite the heat, it was very reassuring to return to the Speedway in Fontana for a second straight year. No doubt, HARD Summer is a fan favorite, and this year was no different as a record 170,000 headliners descended upon the Speedway. We'll break down some the changes and features this year's festival and hand out grades accordingly.
Lineup Grade: A+
HARD has a history bringing some the most diverse lineups and creative b2bs, and this year was one the best. The mainstage featured headline performances from Major Lazer and Kid Cudi, and both performances were packed. There were also insane b2b performances, Excision b2b NGHTMRE slaughtered the HARDER stage with bass and dubstep on Night 1, while DJ Snake b2b Malaa closed out the Pink Tent. The Pink Tent was poppin' all weekend, by the way. Not to be outdone on Day 2, Zhu x Tchami went deep and dark at the main stage while Flux Pavilion b2b Netsky closed out the Green Tent with a once in a lifetime performance. Despite all this, the most hype performance the weekend may have been NBA hall famer Shaquille O' Neal performing as his DJ Diesel moniker in the Green Tent. Having played for the Los Angeles Lakers from 1996-2004 and winning three NBA titles, Shaq is an icon in Southern California. He laid waste to the packed out tent with just banger after banger heavy bass. Can…you…dig…it!?
Production Grade: A
This applies mostly to HARD and HARDER stages, but I was super impressed by this year's stage design. HARD (main) stage has mostly just been a regular stage with a massive LED, this year saw the addition some side panels that gave the impression the stage having teeth. It was a really cool touch that gave the stage some life and depth that it hasn't had in previous iterations. Artists like Dillon Francis and Major Lazer also brought on LED blocks that moved vertically throughout their sets. Best stage design had to go to HARDER stage, however. Instead one big LED, the stage was consisted multiple smaller LEDs forming a block pattern and retaining the 3D effect last year's HARDER stage. Also, the pyro was wild at HARDER stage! Our only gripe here is the lack lasers — why??
Ground Cover/Shaded Areas Grade: A-
Whereas last year HARD laid out fake grass on the asphalt to combat heat, this year they just covered all the dirt areas with tarp. And, you know what, it actually worked really well to reduce dust. Although the ground was uneven in places and it was easy to trip, the almost complete lack dust was remarkable. While not as aesthetically pleasing as fake grass, it was immediately clear that the tarp was effective. If you arrived to the festival anytime before sundown, you were probably taking advantage the myriad shaded areas and the main thoroughfare, Shady Lane, a long stretch tent with misters installed throughout. The Inland Empire is friggin' hot, so all efforts by Insomniac to quell the heat and elements were much appreciated. The pool at main stage VIP was already greatly appreciated as it has been in years past.
Accessibility Grade: C
Here's where we start picking some nits; while the ample GA parking was convenient and much appreciated, unless you parked in the Purple lot, you still had quite the trek to get into the Speedway. The Orange Gate was particularly treacherous as it was servicing both the Orange and Yellow parking lots. Not only did you have to walk from the south end the Speedway, you had to walk around to the east end, before walking up a hill and over some stairs before you entered the festival near the Green Stage. I was worried that we would be gridlocked in the parking lot upon leaving, however, it wasn't too bad. It still took about 25 minutes to exit parking, which isn't terrible, but more entryways into the festival grounds would be nice. The Auto Club Speedway is also massive; fun fact, it's actually bigger than the Las Vegas Speedway where EDC takes place. However, HARD utilizes far less space than EDC. There were plenty food trucks and concessions to be found, but it felt like drink lines were long everywhere. Honestly, the best place to acquire food and drink was probably at the many stands lining Shady Lane. Again, these are nitpicks, and things were mostly smooth, but they could have been smoother.
Security Grade: D
This is an area we sadly had to take issue with. We live in a very turbulent time in a country where mass shootings have unfortunately become part the daily discourse. Music festivals themselves have become a target for shootings, so needless to say, when we went through security, and there weren't any metal detectors, that was a big problem in our eyes. Sure enough, when taking a break from the festival and getting WiFi, we discovered that there had just been a shooting in El Paso. In retrospect, this felt like a huge failure by Insomniac for not implementing the fullest security measures. No one minds going through security if it ensures you are safe, and this seemed like an egregious error. Security checks were much tighter on Day 2, and thankfully, the festival was a safe and happy time, but Insomniac needs to do better in the future.
As a sidenote, while not really related to a safety violation, why were staff selling water bottles after the festival ended on Sunday, rather than giving a bottle to those leaving? Even worse charging $5 a bottle from a case that probably cost that much for a pack 35. Nothing major, but not a good look, either.
---
There you have it, despite a couple hiccups along the way, the latest edition HARD Summer was a resounding success. The music was incredible, the production was next level, and the vibes were incomparable. Although nothing has been announced yet, it would come as a great shock to us to not see HARD Summer the same first weekend August back at its new home at the Auto Club Speedway in Fontana. With Insomniac at the helm, the HARD brand is in good hands. If you can't wait a year for the next HARD Summer, HARD events will return November 2 for Day the Dead at LA State Historic Park with Dog Blood, Zhu & more!