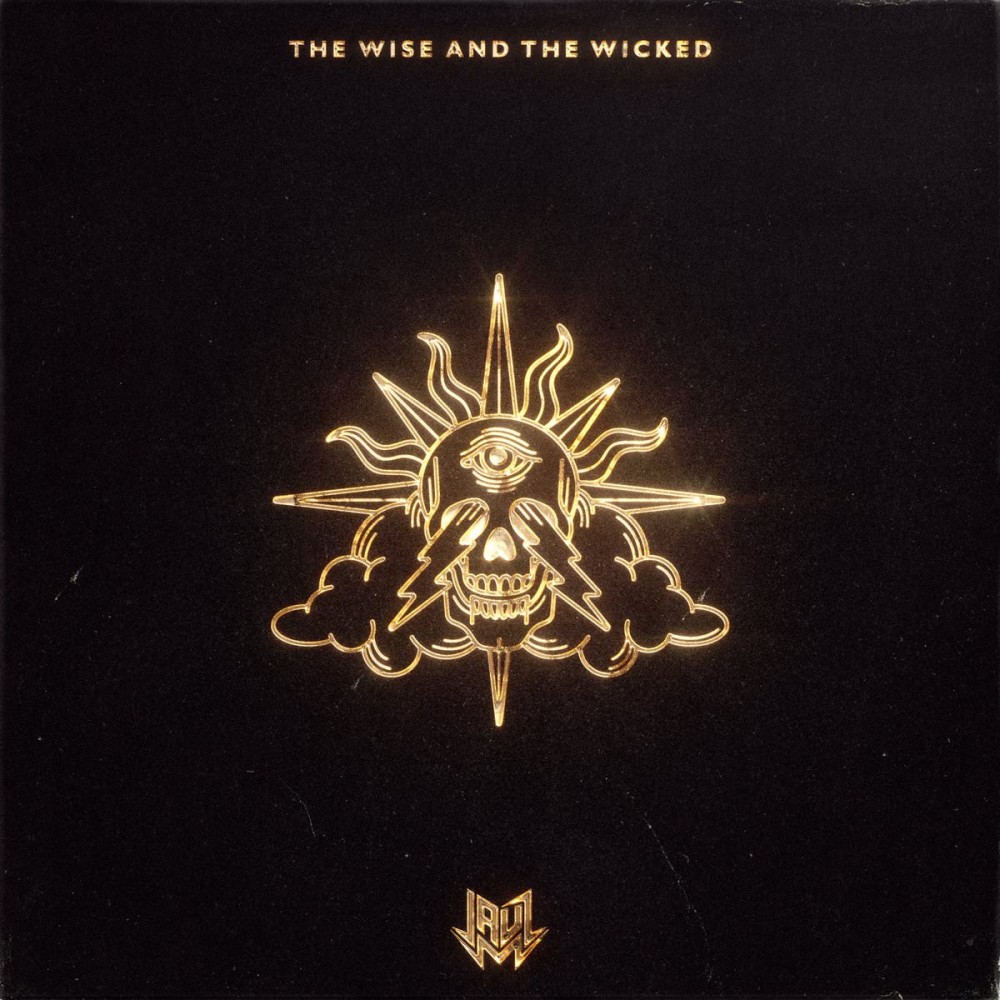 Jauz – The Wise and The Wicked
Ever since bursting onto the scene back in 2013, Jauz has been been absolutely smashing it. With tracks like 'Feel The Volume', and 'The Game', it's easy to see why that is. His collaborations such as 'Magic' with Marshmello, 'Squad Out' with Skrillex and 'Lights Go Down' with Zeds Dead confirm this. Today we bring you his debut album 'The Wise and The Wicked' which only furthers my point, and proves that Jauz is here to stay. Needing no introduction from myself, i'll let the 'Byte This' labelhead tell it himself:
1.Prologue: The Wise and The Wicked
This one speaks for itself, its the intro to the album. And breaks down the back story/ concept that the whole thing is built upon. If you've yet to read up on the album i highly recommend listening to this. It closes with the ominous quote :
At this point, the vocals fade out, and the atmosphere begins to build, ending in a full blow track, with some epic wubs & wobbles that would be capable being any other producers biggest song.
2. Babylon – Jauz & Tisoki
The first full track the song is an absolute banger a track. Made with Tisoki, you can hear a lot the reggae influences throughout the track. It should be known that Jauz went on the record saying he had been wanting to create a "throwback dubstep track" for the longest time, and thats exactly what we have here.
2.In The Zone – With Example
From the description "The Wicked" we get from Jauz in the prologue, it seems like this track is spot on with what he was shooting for. It includes a gritty a** bassline, and an awesome lead. This is all accentuated by the London-based vocalist Example's smooth flows.
4.Chapter 1: Discovery The Wise]
The first taste "The Wise" and i'm having flashbacks to election time. Check it out and I think you'll know why.
5. Diamonds – With Kiiara
You may have heard this one already as it was released earlier this year. Being one Jauz's more poppy sounding songs, it is saved by his signature sound bass and wobbles. When paired with Kiiara's sweet vocals, it works, and its great.
6. Eager – With fabrice
Originally sent into 'Byte This' as a demo by the German-based fabrice, this is the first house track on the album. It starts f sounding like it may be a Drum & Bass track, but the vocals come in along with the 4/4 kick, and we get the chance to appreciate it for what it is. It's a fun playful track, and it's gonna be a fun one to hear live.
7.Soldier – With Krewella
Jauz has teamed up with the Krewella sisters on 'Soldier' and its just what we were expecting. Not quite the pop-edm track that 'Diamonds' was, Soldier has the signature Krewella sound to it as the girls vocals stand out from the track. It isn't until the second drop that the Jauz vibe completely takes over, and we're there rewinding the track trying to comprehend the beauty we just heard. There's also this sweet guitar solo at the end. Check it out.
8. Chapter 2: Wicked Nature The Wicked]
Feeding our primal instincts, The Wicked's spokesperson jumps on the mic and tries to sway us to his side. This is starting to get juicy, and the soundtrack couldn't be doing a better job expressing that.
9. Motherfuckers – With Snails
I still remember when this track first dropped and being a bit confused as to what Vibe Jauz was exactly shooting for with this Snails collab. Well my questions have been answered, and after listening to the first half this album it completely makes sense. The Wicked are in full stride.
10. Acid or Techno
Acid or Techno? That's the question, and I still don't have the answer. This track is unlike anything i've ever heard from Jauz, but that's a good thing. In a mix what can only be assumed to be Acid House & Techno, we get to see a new side Jauz, and I think would like some more.
11. Get Widdit – With XX92 ft. BRU-C
Jauz's love the U.K. bassline is prevalent in this one. On working with XX92 & BRU-c he says:
If you've followed Jauz from the start, you know how close this is to the breakout sound he has championed, and helped to resurrect.
12. Chapter 3: The Search For Meaning The Wise]
This has gone from sounding like election talk, to sounding like propaganda out Straight out the "District One' from The Hunger Games.
13. Frequency – With Adventure Club ft. Kyle Pavone
In the lead up to album, this was the track I was personally looking forward to the most. Right f the back, the vocals are amazing, and with the effects thrown on, they sound like something straight f a Skrillex track. My favorite part is the drop, as the lead sound is just so epic. This is one I can't wait to hear live and vibe away too. This track was made together with Kyle Pavone from the band We Came As Romans, who just passed away days ago. The fellas over at Adventure Club as well as Jauz were huge fans, so i'm this will be even more important to them now when they play it live. RIP
14. Rave With me – With Ducky
'Rave With Me' features some beautiful vocals courtesy Ducky, and even Jauz think so. The track originally had a different vibe to it, but upon hearing her vocals it immediately changed. In Jauz's own words:
Seems to me like they hit this one the nail, and we couldn't be happier. I've got a feeling "Do you want to rave with me" is gonna be the anthem for a lot fo new rave couples in the coming months. I for one, can't wait to hear this one live with the Rave Bae.
15. Fade – With Mike Waters
That whole plan that The Wise had to try and get us in our feelings? I think that's working. What starts f sounding like it could be a Tropical Pop song, takes a sharp right turn after Mike Waters' vocals kick in as build and the drop are high-key Drum & Bass. The instrumental itself is fire, as every track thus far has been, but these vocals are something else.
Jauz goes on the record stating that he
16. Chapter 4: Becoming United The United]
Throwing aside the beliefs the wise and the wicked, the united have to terms that "humanity's greatest gift is connection". In what sounds like a quote from Star Wars, the two sides come together to embrace both the wise and the wicked.
17. Gassed Up – With DJ Snake
In 'Gassed Up' Jauz teams up with the Vibe master that is DJ Snake. If Jauz is the messiah The United, then my guess is that Dj Snake is going to be his high priest. It is widely known that DJ Snake is able manipulate emotions through his music, and we are now seeing that Jauz is able to as well. Gassed Up was released earlier this year, and has been smashing dancefloors ever since. The drop is half parts Snake & half parts Jauz. If there was ever a choice track to kick f this section, its this one.
18. Velvet Paradise – With FIRST
This is another track that was sent to Jauz as a demo for Byte This by the producer 'First'. Jauz is on record saying this "might be one his favorite songs on the album". This one is another emotion tinged banger, but which is also half parts banger. After starting f sounding like something from The Chainsmokers, thisone quickly turns it around and gives us "paradise".
19. On Fire – With HYPRESSION
I'll let Jauz start this one f:
This is a fun one. It's all over the place in my opinion. Drawing inspiration from everywhere, it features numerous different sounds, and a couple different drops. It's a fun track, but i'm not sure a 19 year old Jauz is the Jauz we've all come to know and love.
20. Keep The Rave Alive – With Lazer Lazer Lazer
One the first tracks released f this album, KTRA is so dope, and really helped to get attention to this album. It reminds me a bit some throwback Wolfgang Gartner, or even some early Dada Life. In talking about the track, Jauz says "
I could agree with this vibe completely.
21. Say Never – With Gerald Le Funk
Being one the the first artists he found for 'Bite This', having Gerald Le Funk on the album was a given. Replacing the wubs and wobbles we heard in the beginning the album for some massive womps, this track is a killer, and definitely has piqued my interest in Gerald.
22. Back Again – With Holy Go
With a pretty catchy hook, and even doper drop, this track further spreads the vibe that Jauz is trying to spread with the united portion the album. With plenty bass to go around, this is a track i can't wait to see the crowd lose it to live. I can already imagine how sweet this song can be mixed into sets with the high pitched vocal it contains.
23. Super Fly ft. 666
The last song on the album, as well as final track to be released prior the album dropping is Super Fly with 666. Featuring some great piano chords in the intro, builds, and breaks, they are quickly replaced by heavy synths in the drop, and it works.
This song was actually written 2 years ago, along with Gassed Up. The tracks were not released though, as Jauz wanted to ensure he was ready to fully jump 'f the deep end' and explore this new sound and style. This track is described by Jauz as a blend his old sound, and his new one. Its a "150 UK/ US fusion" and one he expects to hear a lot more in the coming years.
The Wise and The Wicked
This wraps up Jauz's debut album "The Wise And The Wicked". What do you think? Have you decided to stay as one the wicked? Jumped ship to the wise? Or embraced it all and become part the united? Regardless your choice, we can all agree that this was a stellar release, and was jam packed with hits. It will be interesting to see where Jauz goes from here. This was an enjoyable album to jam out to, and i'm sure the rest the shark squad can agree. The track list can be found below, as well as links to stream and download. "The Wise and The Wicked" is out now, and available everywhere.
Jauz – The Wise and The Wicked | DOWNLOAD
Jauz Socials:
Facebook- www.facebook.com/JauzOfficial/
Twitter- twitter.com/Jauzficial
Instagram- www.instagram.com/jauzficial/
YouTube- www.youtube.com/jauzficial
Check out our ficial EDMTunes playlist for the freshest tracks - updated weekly!