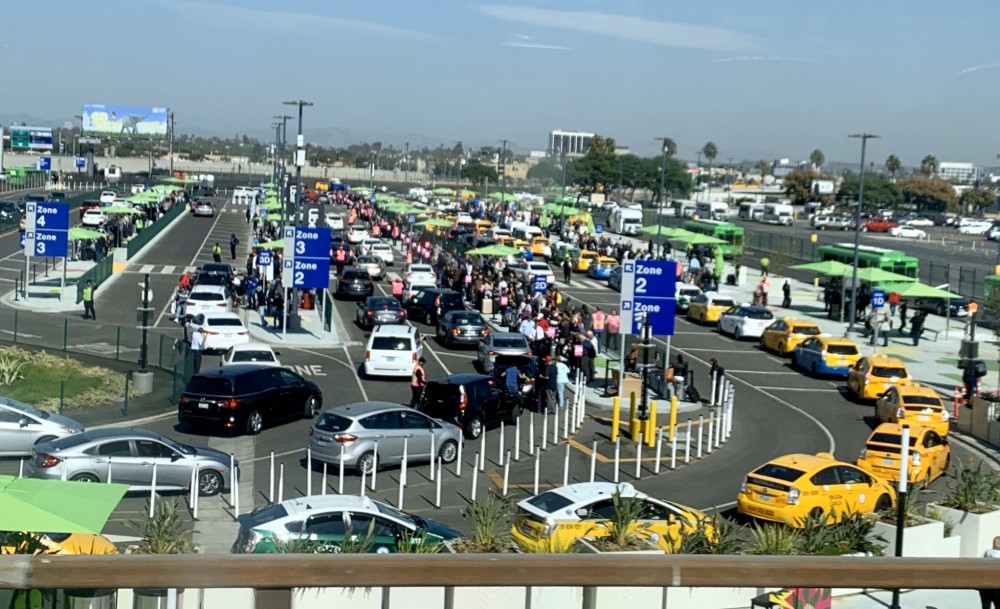 For years, travelers to Los Angeles its major international airport LAX could count on getting picked up by ride share services like Lyft and Uber. Ever after the airport made the switch to only allow pickups at the departures level at specific points, it was rarely a hassle except on horrible traffic days. Now, today as 3 a.m. PST, ride shares are banned from curbside pickup and must go to a separate pick up location. Though the terminal traffic has now been cleared up considerable, from a customer perspective, it was chaos.
LA Times' Laura Nelson was there in person to scope everything out and assess the growing pains for commuters who just wanted to go home… Read Nelson's full story on the Times here.
Of course, it should be kept in mind that this is just the first day and the rides will likely smooth out over time. But still, a transition this magnitude shouldn't be causing this much friction right from the get go, either.
There's been some confusion among travelers who can't figure out where to get on the shuttle or which one they need, or where to find their Uber or Lyft once they're in the parking lot.

— Laura J. Nelson 🦅 (@laura_nelson) October 29, 2019
From the farthest terminals — 4, Bradley, 5 — the shuttle ride this morning has been less than 10 minutes. For most people, it seems like finding the right stop + waiting for the bus is taking as long as the ride. (With the caveat that Tuesday is a very light travel/traffic day.) pic.twitter.com/ogEGtxBSv7

— Laura J. Nelson 🦅 (@laura_nelson) October 29, 2019
Also I can only ride the LAX shuttle bus TO the pickup area, not back to the terminals afterward, so I'm really getting my steps in this morning 🏃‍♀️

— Laura J. Nelson 🦅 (@laura_nelson) October 29, 2019
The waiting area has two food trucks — right now, it's a wings place and a cfee truck — but mostly the people eating there are airport employees. Looks like most travelers don't want to hang around at LAX long enough to eat. pic.twitter.com/0xChiNjh14

— Laura J. Nelson 🦅 (@laura_nelson) October 29, 2019
My colleague @erinblogan and I talked to riders this morning who had issues finding their Lyfts and Ubers. Both companies have numbered waiting areas, but there's still a lot space for drivers and travelers to lose each other.

Story on all this is coming shortly!

— Laura J. Nelson 🦅 (@laura_nelson) October 29, 2019
As LAX gets busier, lines for Uber and Lyft are now several dozen people deep. The line for drivers to get into the lot is getting longer, too. Multiple people said they've been told their driver is 3-4 minutes away… for 15-20 minutes. pic.twitter.com/WPrya9ZuQ5

— Laura J. Nelson 🦅 (@laura_nelson) October 29, 2019
As was the case earlier this morning, the taxi line is moving the fastest at LAX, since riders don't need any code or confirmation or match before jumping in a car. Two tourists from Romania said they'd only been in line for 5-7 minutes before stepping into a cab.

— Laura J. Nelson 🦅 (@laura_nelson) October 29, 2019
Photo @ArturoNALEO