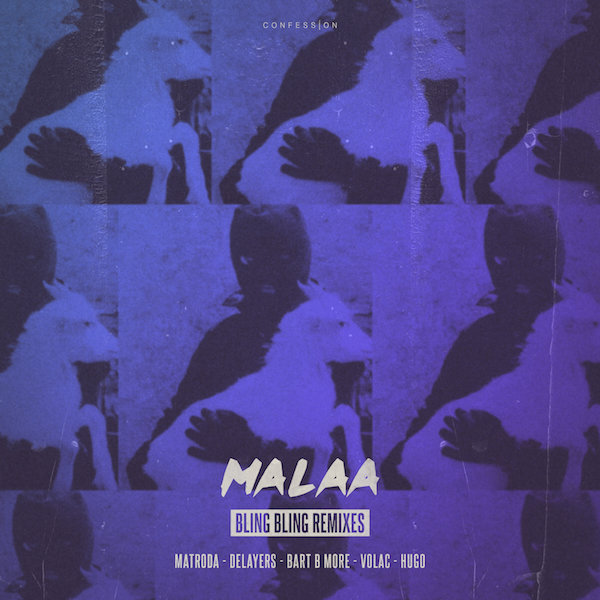 Back in June, Malaa released his absolutely epic latest track 'Bling Bling' to massive praise from his audience. To the surprise many, the tune is a noticeably different style than much his previous work that helped catapult him to the highest level the industry. While the beat and buildup is still heavily based around his signature dark and heavy house vibe, he takes the drop in a wildly different and funky direction. The release 'Bling Bling' has further expanded Malaa's live set repertoire, giving the masked, cigarette smoking DJ a go to weapon when his set needs a switch-up.
Now, Malaa has revealed the ficial 'Bling Bling' remix pack, featuring new and exciting versions from Matroda, Delayers, Bart B More, VOLAC and Hugo. Each version presents a different take on the track with one common denominator: House music. Any and all house-heads will feel right at home listening to every version in this package, and each injects the tune with a different flavor from the genre. Now when you hear the ever recognizable lyric "every time I come around your city bling bling," it's anybody's guess what version will blast out the speakers.
You can listen to all five remixes 'Bling Bling' below, and check out all the tour dates for Malaa's upcoming Illegal Tour kicking f at the beginning October.

MALAA ILLEGAL TOUR 2018
|
Tickets
OCT 11 CODA TORONTO, ON (SOLD OUT)
OCT 12 1896 STUDIOS & STAGES BROOKLYN, NY
OCT 13
ECHOSTAGE WASHINGTON DC
NOV 2
RUSSELL INDUSTRIAL CENTER DETROIT, MI
NOV 3
NEW CITY GAS MONTREAL, QC
NOV 8
CONCORD MUSIC HALL CHICAGO, IL
NOV 9
CONCORD MUSIC HALL CHICAGO, IL
NOV 15
CONCOURSE PHILADELPHIA, PA
NOV 16
IRONWOOD HALL AUSTIN, TX
NOV 17
CANTON HALL DALLAS, TX
DEC 7
TO BE ANNOUNCED
DEC 8 45 EAST PORTLAND, OR
DEC 14
TO BE ANNOUNCED
DEC 15
SHOWBOX SODO SEATTLE, WA