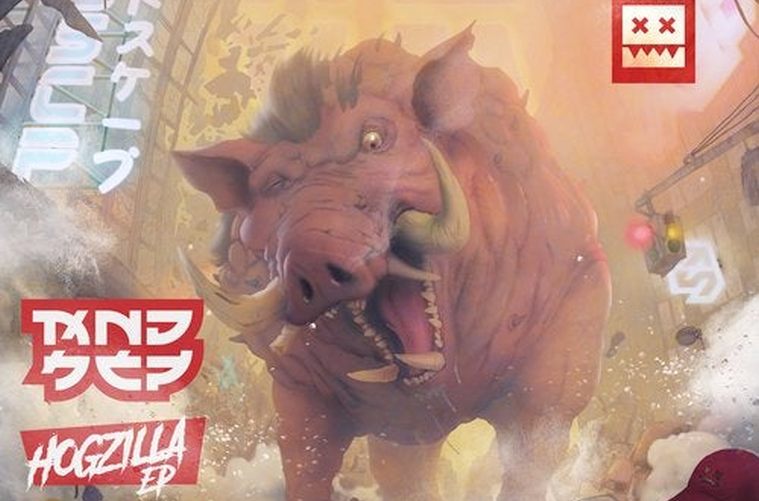 For those who have been looking for Mindscape's new EP Hogzilla under his old monkier, you'll be happy to know it's not an error with Beatport. A new streamlined alias with vowels deleted is the only change to the newly minted MNDSCP's flow, as the style and substance his music sees no signs slowing down.
That's not to say the tracks on Hogzilla aren't new and different in their own way, however, as a warmer ambient town with crunchier bass sounds characterize this EP. Having proven he's capable clean, nuclear precision with his sound design, it seems the Hungarian neuromaster has decided to get a little more funky with his neurunk this time around. There's a relaxed groove to the beats here that's fun, funky and a little bit throwback.
The EP opens with a definite throwback vibe with "Vertigo" and the crunchiest rolling bassline the neuro world has seen in quite a while. It's a funky roller dotted with cowbells, just like a good neurunk track should be. The other fun thing is the afore-mentioned bass synths actually sound like the sonic equivalent vertigo, so hold on to a chair or something before you start headbanging.
"Back Down" with MC Hijak and the title track are both an interesting combination classic neurunk sounds and modern techniques. The engineering and compositional work on "Back Down" is definitely tight and precise to modern standards but the bass synth sounds and the addition Hijak's vocals allow the track to bounce along with that classic funk. "Hogzilla" has the aggressiveness a modern tune but the laid back drum setup and quick snares earlier neuro.
Lastly "Radiance" is an OG rave stunner from start to finish. It's got the works: ambient, ravey intro, lots cowbell samples, horns, lightning fast snares and a groove so deep you can almost picture the needle rolling across the vinyl. The "funk" is coming back to neurunk if MNDSCP has anything to say about it, and this track says a whole lot.
While a lot artists are going for looser beats and crunchy basslines lately as the neurunk pendulum is correcting itself from the ultra tight precision the early 2010s, MNDSCP, whatever form his name takes, is able to instantly strike a balance in his work between groove and tech. Hogzilla is heavy, deep, funky and technically clean. The EP is able to satisfy a broad spectrum neurunk tastes while also staying true to his own style. Streamlined name or not, MNDSCP brings it hard as usual on Hogzilla.
Hogzilla is out now on Eatbrain on Beatport and Spotify exclusive. Click here to purchase or stream.