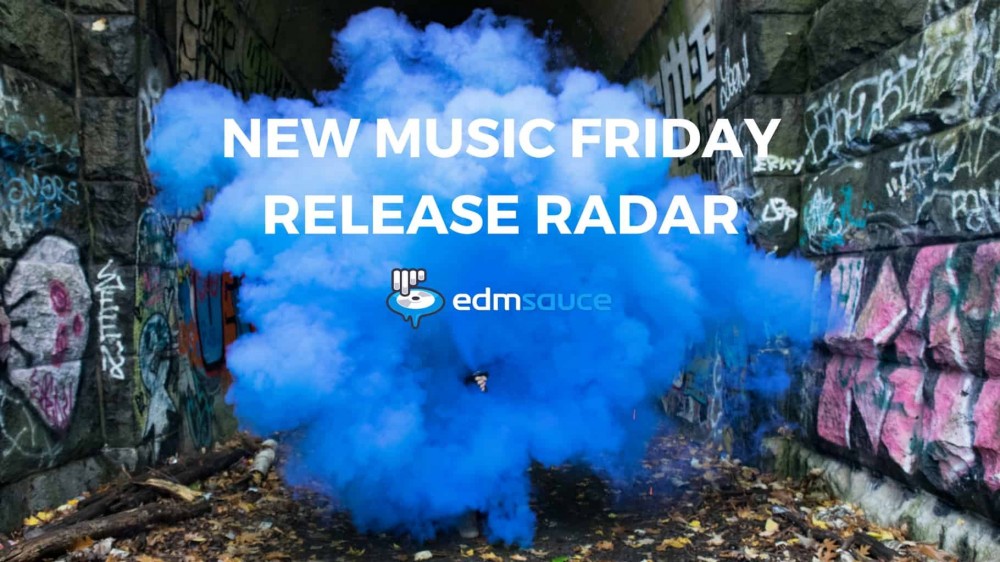 The post that needs no introduction…the New EDM Release Radar. Every week for over a year we've given you the deets on releases before they come out, then when they drop, we hit you with the playlist.
Check out the list below, it's created reddit.com/r/edm, , Beatport & Traxsource info, & social media. Let me know if I forgot anything massive!
---
Singles
---
Amine Edge & DANCE, Sergy – Club Lit (Jimmy Edgar Remix)
ANG – La Guitarra
Ant LaRock – House Is About Love
AYAREZ – Sweat
Beatsole – Night Flight
Block & Crown – Phunky Cold
Bonnie x Clyde – Bad Behavior
BYOR – Rhyme & Reason
Chemical Surf – Down (FREY Remix)
Cloonee – On Ya Marks
Conor Ross – Goodbye
Croatia Squad – Move That Body
Danny Tenaglia – Don't Turn Your Back
Dennis Cruz – Get Them Up
DERRIC, Maone – Level Up
Djorda Luigia, Mathias D. – The Future
Dylhen – Infinity
Dyro – Masquerade
eedion, Nesta Malcolm – Down For Love
Ekali, Wafia – Be Fine
Felix Jaehn, Mesto, Vcation – Never Alone
Freefall, Jan Johnston – Skydive (Paul Thomas & Bluum pres. BPT Remix)
Funkerman – Speed Up (Kevin McKay, Qubiko & Funkerman Remix)
Galantis – Holy Water
Garmiani – AVA
Godz Gift – That Love I Give
Golf Clap, Masteria – Mystery Scene
Greg Downey – Infinity
Hannah Wants, Kevin Knapp – Call Me
Hardwell – Summer Air (Dr Phunk Remix)
Hälder – In My Head
Iglesias – Don't Ya
Jeremy Moore, Manu Gonzalez – Acuerdate
Jody 6 – 7th Sense
Kaskade, TELYKast – No One Else
Kate Ryan – Wild Eyes
Keizer Jelle – Ain't No Fun
KEVU – Throne
Killed Kassette, M.F.S: Observatory – Freak It
Martin Noiserz – Voices
Maurizio Basilotta, Lissat – Renegade
Mike Perry – One Life
MIMI, Kastra – You Don't Know Me
Nause, Middle Milk – Play Nice
Ninetoes – Madizm
Nitti Gritti – Eyes On You (feat. Jimmy Levy) (Tobtok Remix)
NOTD, Daya – Wanted
Passenger 10 – Proteus
Quix- Trying to Love
R3HAB, A Touch Of Class – All Around The World (Brennan Heart Remix)
Reblok – Climbin' Up
Redford – Feelin Alright
RetroVision – Take Off
Robbie Rivera, NXNY – Musique
Robbie Rivera, S-Man – Wake Up
Robin Tayger – I Know
Rogerio Lopez, Tim Porta, Julie McKnight – Home
Saad Ayub – Run
Sandy Rivera, RAE – Hide U (Chicola Remix)
Sem Thomasson – Grey Zone
Seven Lions, Slander, Dabin, Dylan Matthew – First Time (NGHTMRE Remix)
Sharam Jey – 4 Your Mind
Skazi, JETFIRE – Artillery
Skrillex, Alvin Risk – Fuji Opener (Olly James Edit)
Slay Hiroki – Welcome
Sophie Lloyd, Dames Brown – Raise Me Up
Steff Da Campo, musicbyLukas – Push
Stupid Goldfish – None My Business
Tasso – Rise
Tough Love, Dakar, Gene Farris – Creeping
Trilane – Never Forget ( Edit)
Tritonal – Never Be The Same
USAI, Salsnich – U&I
UZ – Fire
Vassy – Trouble
Waze & Odyssey – MOVE
Yotto – Is This Trance?
Yves V, Afrojack, Icona Pop – We Got That Cool (Chico Rose Remix)
Zedd, Kehlani – Good Thing
, Funkin Matt, Fiora – Feel So
---
Albums, EP's, Remix Packs
---
&lez – Yellow Safari (EP)
AC Slater – HI8 (Album)
Aeikus – Eros / Juno (EP)
Apollo Pan – Struggle Everyday (EP)
Axel Karakasis – Variations (EP)
Blood Thinnerz – Industrial Blackout (EP)
Borgore – Art Gore (Album)
Branco Simonetti – Always There (EP)
Daniel Orpi – Don't Believe The Hype (EP)
Dany Cohiba – La Magia Negra (EP)
Dateless – Utopia 303 (EP)
Deeper Purpose, Intrusive – Malfunction (EP)
Definition – Hive (EP)
Demuir – We Be Houzeln (EP)
Elisa Bee – See You There (EP)
Elliot Adamson – Electric Acid Tater Tots (EP)
Enzo Siragusa – A Decade Rave Volume 2 (Album)
Espinal & Nova – Believe / Damn Boy (EP)
Estiva – Metamorphoses (Album)
Fatima Hajji – Sinergy (EP)
Fellar – No Party (EP)
Hassio (COL) – Heaven (EP)
Immature – 90's Feeling (EP)
Javier Carballo, TERMS – Loud Jam (EP)
John P – Regenerated (EP)
Joseph Edmund – Brother Plz (EP)
Junior Sanchez – Believe (EP)
K-391 – Play (Remixes)
Kuestenklatsch – Moving Down (EP)
Late Replies – Get It Right (EP)
Loco Dice – Love Letters Remix Edition (EP)
Made By Pete – Hawkins (EP)
Marco Berto – Bridge (EP)
Mark Sixma – The World Of Six (Album)
Mauro Venti – Friendzone (EP)
Mekkawy – Drop It (EP)
Miguel Bastida – Kicker Machine / Etnias (EP)
Mr. Carmack- Rebuild (EP)
MYRNE – In Search Solitude (LP)
Novodisc – Dancing (EP)
Ocean Roulette – Vibe Machine (EP)
OMATIX – Give Ya (EP)
Paco De Rosa – Get My Energy (EP)
PAX – Pass The Bottle (EP)
RDNK – EP 1 (EP)
Reinier Zonneveld – Melting Brains (EP)
Rob Hes – Things We Lost (EP)
Roel Salemink – X818 (Album)
Rogue D, Memoryman, The Ritual – Tears (EP)
Roman Messer – Dream (Album)
Ron Costa – Hands Up (EP)
Ronnie Spiteri – The Empty Eye (EP)
Shaun Frank – Where Do You Go (The Remixes)
Showtek – Way We Used To (Remixes)
Simon Kidzoo – Might Be Dope (EP)
The Midnight – Remixed 02 (Album)
This Culture – Rapture (EP)
Timmo – Starlight (Album)
Tinlicker – This Is Not Our Universe (Album)
Uncertain – Crystal (EP)
Various Artists – Dirtybird Campout 2019 West Coast Compilation
Viers – Hurt Me (EP)
Will Easton – Kaleidoscope (EP)