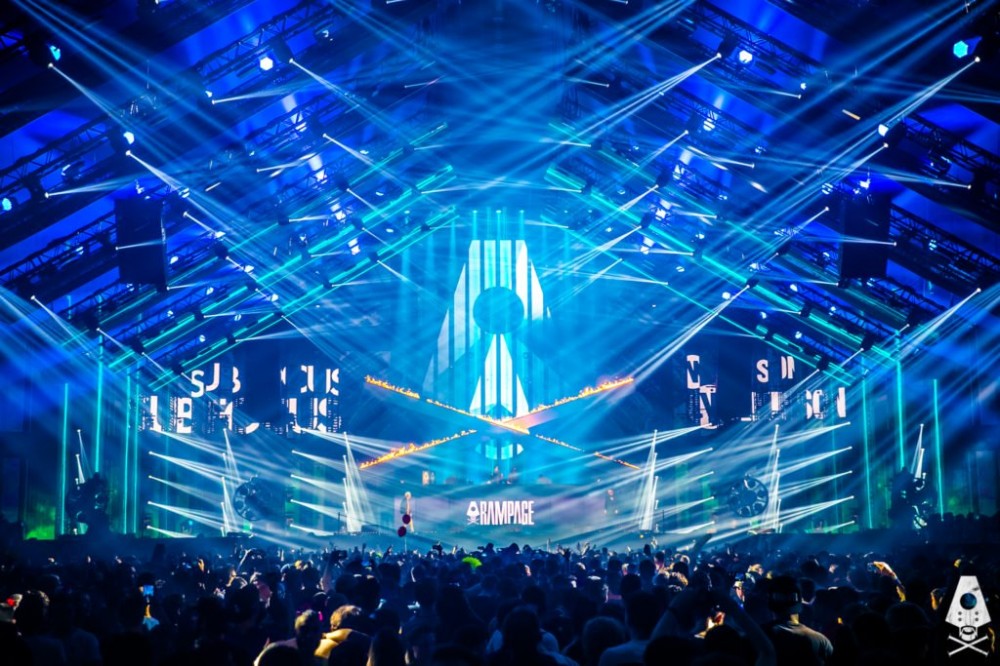 After an incredible 10 year anniversary event last year, Rampage hasd been working hard over the winter to make sure the 2020 edition, from March 13-14 in 2020, will be even bigger and better.
Returning to the Belgian city Antwerp and the giant Antwerp Sportpaleis, the line-up this year brims with world-class talent and a very special, fully-fledged headline show from Pendulum Trinity which will be the first time the band have performed outside the UK, and will be the only time they do so before summer. As well as that, a special Farewell Tour DJ set from Noisia, and sets from Black Sun Empire, a world-wide debut AV show from Virtual Riot, Eptic, SASASAS (Macky Gee, Phantasy, Skibadee, Shabba D, Harry Shotta), Camo & Krooked b2b Mefjus, Delta Heavy, DJ Marky, Matrix & Futurebound, Modestep (live), Kasra b2b Randall, Dirtyphonics LIIVE, Midnight Tyrannosaurus, DPMO, Definitive b2b Sweettooth b2b Flakzz, and many more line up.
Of course, the man behind all this is Belgium's DJ Murdock aka Hans Machiels, who has released on V Recordings, Hospital Records and whose latest album on Viper has made a huge impact which has seen Mistajam select 'Double Dutch' as his self-certified dance anthem, while Annie Mac plucked 'Different Way' for her BBC show. As such, he is right at the heart the scene as a DJ and Producer and leading from the front with the immense Rampage brand.
Your EDM caught up with Murdock ahead this year's Rampage to talk about the future the event, how the lineup is curated, having special Pendulum and Noisia performances on one lineup, and the rise drum & bass in the U.S. Read below!
Tickets to Rampage are still available here.
After hosting the 10th anniversary last year and now heading into a new decade, how do you feel about the direction Rampage and how are you looking to improve upon it in the years to come?
Well, the festival has been getting more and more renowned and that puts the spotlight even more on us, which pushes us to do even better. The line-up is more impressive than ever, and the show will be getting a complete make-over, making sure people won't believe what they see when they enter the room, March 13th. We have been thinking ways to make the experience completely different and more active throughout the night and have come up with a few ways to keep eyes boggled throughout the event.
The upper tier artists in drum & bass and dubstep don't change much year to year. You have Noisia, Pendulum, Excision, Zomboy, Camo & Krooked, the pillars the scene in general. When you're booking the lineup for Rampage, how much attention is given to these all-stars, the headliners, as opposed to the rising talent?
The main attention goes into the new talent and the ones that have cemented their position as leaders the pack, groundbreakers or just legends. The most exciting thing is bringing new talent out, and giving people that deserve to shine on such a stage that chance. It's great that we have DJ Marky on board this year – he has been a big influence on my career and he is just one my favorite drum & bass DJs. Another sick addition is AC13 & Ben Snow, who have been making big waves. But also the fact that guys like Virtual Riot keep climbing the ladder the bass music world and they can do so each year at one our events.
Booking both Pendulum Trinity and Noisia's Farewell Show this year must have been huge accomplishments for you. How have these two groups influenced your own experience in drum & bass over the years?
The great thing is that they want to play our event as much as we want them to play for us. Both outfits are gangs legends and we could not NOT have them, if you know what I mean. Pendulum is coming out as a threesome for the first time in years, presenting new music, having Rob Swire sing live… I'm sure people are going to lose it when that happens. And although it's sad that we have to say goodbye to Noisia, but what better way to do that than on our stage at Rampage?
I was part the group DJs that brought Pendulum out to Belgium for the first time, ages ago, when they had just dropped Vault. That is still one the most impressive tunes in drum & bass history and it immediately made everyone aware big things were about to happen. Noisia have delivered so many classics, both big hitters like Friendly Intentions and Stigma, but also surprisingly funky creepers like Motion Blur. They are always represented in my DJ sets.
A lot people are saying that drum & bass will experience a huge resurgence in the US in 2020. Do you think this is true? And how would you help to make it true if not?
That seems to be the rumour, yes, and I wouldn't be surprised. When I played EDC in Las Vegas last year, the reaction to drum & bass was as big as the one to dubstep on that Basspod stage, which had everyone talking. Obviously, other (bigger) stages had dubstep acts playing to bigger crowds, but the way drum & bass went down at EDC was very promising. I'm sure we'll get involved in America at some point, but only time will tell!