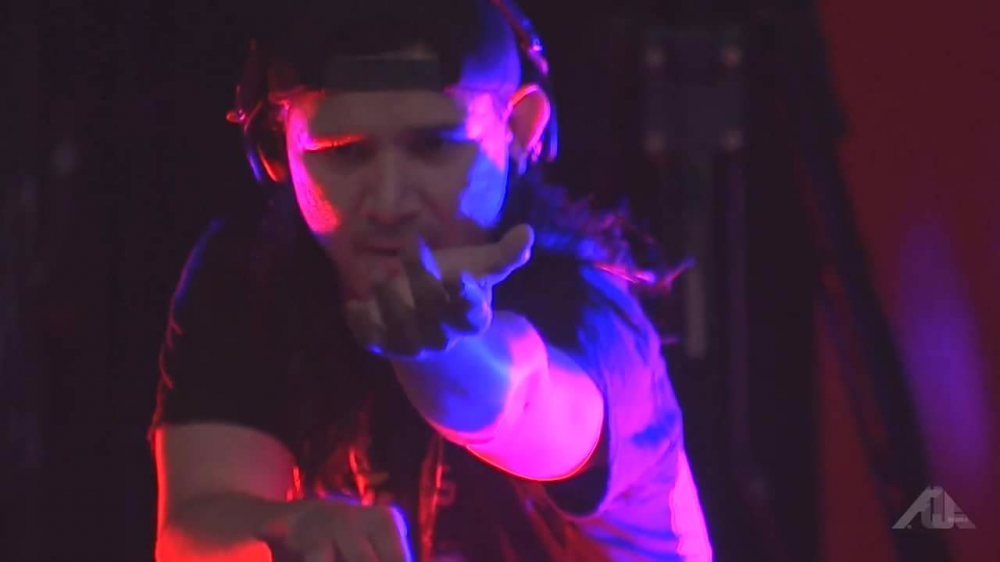 Though Fuji Rock was and is his only major festival appearance 2018, it's safe to say that Skrillex is back. With far too many clues that point to new music from the OWSLA don, this set absolutely sealed the deal. If you need any confirmation that – and we wouldn't fault you for that – all you need to look at is the opening track and encore.
For the opening his set, Skrillex dropped an ancient ID (by dance music's standards) from 2015 entitled "WTFIWWY" and then even mixed in a new version another ID, "Ping Pong." According to , there were still another two Skrillex IDs in the first 10 minutes the set.
The rest the set reminds us why we fell in love with Skrillex in the first place: some the most creative mixing with all the best tracks in the game with the intense, personable energy from Sonny on stage. If you want to see just the encore, go .
With an album massively rumored to be on the horizon, we expect 2019 to be a very big year for Skrillex.
Tracklist:
01. Skrillex – Countdown Intro
02. Skrillex – WTFIWWY
w/ Alvin Risk – Skyclad
w/ Skrillex – Scary Monsters And Nice Sprites (Acappella)
w/ Skrillex – ID (Ping Pong / Bollystep) unreleased]
w/ ID (Skrillex?) – ID (dubstep)
03. Avicii – Levels (Skrillex Remix)
w/ Doctor P – Bulletpro (feat. Eva Simons)
w/ Big Sean – I Don't Fuck With You (Acapella)
w/ JOYRYDE – Damn (feat. Freddie Gibbs)
04. 4B x Aazar – POP DAT
w/ ID (Skrillex?) – ID (trap)
05. Wiwek & Skrillex – Killa (feat. Elliphant)
w/ Eptic – Watch Out
06. Migos – Bad And Boujee (feat. Lil Uzi Vert)
w/ Skrillex & Rick Ross – Purple Lamborghini
w/ Kendrick Lamar – HUMBLE. (Skrillex Remix) Deville Bootleg]
07. Lil Pump – Esskeetit
w/ TroyBoi & Flosstradamus – Soundclash (Acappella)
w/ Wiwek & Skrillex – Killa (feat. Elliphant)
w/ ID – ID (trap)
08. Skrillex & The Doors – Breakin' A Sweat
w/ Calvin Harris – Summer (Diplo & Grandtheft Remix)
09. Skrillex – All Is Fair In Love And Brostep (feat. Ragga Twins)
w/ Diplo – Biggie Bounce (G-Buck Remix)
10. XXXTENTACION – Look At Me!
w/ A$AP Rocky & Skrillex – Wild For The Night (feat. Birdy Nam Nam)
w/ Skream – Filth
11. Damian Marley – Welcome To Jamrock (Acapella)
w/ Skrillex & Damian Marley – Make It Bun Dem
w/ Skrillex & Damian Marley – Make It Bun Dem (MONXX Remix)
12. Skrillex & Damian Marley – Make It Bun Dem (Alvin Risk Remix)
w/ JOYRYDE – Hot Drum
w/ Wildchild – Renegade Master (Acappella)
13. Skrillex & Poo Bear – Would You Ever
14. Skrillex & Habstrakt – Chicken Soup
w/ Kanye West – All Of The Lights (feat. Rihanna)
w/ Jauz & Ephwurd – Rock The Party
w/ Skrillex & Habstrakt – Chicken Soup (JOYRYDE VP)
w/ Alvaro & Mercer – Welcome To The Jungle (Acappella)
w/ Skrillex & Diplo – Jungle Bae VIP unreleased]
w/ Skrillex & Diplo – Jungle Bae (feat. Bunji Garlin)
w/ Kovalenco Gennadi – Moda
15. Skrillex – The Devil's Den VIP unreleased]
w/ Skrillex & Wolfgang Gartner – The Devil's Den
w/ Daft Punk – Harder, Better, Faster, Stronger (Acapella)
16. Pantera – Fucking Hostile
w/ Knife Party – Internet Friends
w/ Skrillex & Kill The Noise – Recess (Valentino Khan Remix)
17. The Game & Skrillex – El Chapo (Sikdope Remix)
w/ The End (Carnage & Breaux Remix) Crankdat VIP]
18. Skrillex & Diplo – Mind (Malaa Remix)
w/ Skrillex & Diplo – Mind (4B Remix)
19. Wiwek – Salute
20. Skrillex & Diplo – Where Are Ü Now (feat. Justin Bieber)
w/ Skrillex & Diplo – Where Are Ü Now (Dimitri Vegas & Like Mike vs. W&W Remix)
w/ GTA – Booty Bounce (GTA HYPRR Mix)
w/ Zomboy – Like A Bitch (Acapella)
w/ Skrillex & MUST DIE! – VIP's (Gent & Jawns Remix) Skrillex Edit] unreleased]
21. Eptic – The End (Carnage & Breaux Remix)
w/ Yeah Yeah Yeahs x A-Trak – Heads Will Roll (Kid Kamillion Trap Edit)
w/ Rihanna – Work (Acapella)
w/ Skrillex & Diplo – Febreze (feat. 2 Chainz)
22. Wuki & Benzi – We Like to Fuck That Shit
w/ 4B & TEEZ – Whistle
23. System Of A Down – Chop Suey
w/ GTA – Red Lips (Skrillex Remix)
w/ GTA x Skrillex x Drake – Red Lips x Trophies (GTA Edit)
24. Pavo & Zany – Here We Go
w/ Dimitri Vegas & Like Mike, DVBBS & Borgeus – Stampede
25. Nero – Promises (Skrillex & Nero Remix)
w/ Nero & Skrillex – Promises (YULTRON Flip)
27. Skrillex & Diplo – Take Ü There (feat. Kiesza)
w/ 50 Cent – In Da Club (Acapella)
28. Skrillex & Diplo – To Ü (feat. AlunaGeorge)
w/ SLANDER & NGHTMRE – You
w/ Skrillex – Kyoto (feat. Sirah)
w/ Skrillex – Kyoto VIP unreleased]
29. Skrillex – Bangarang (feat. Sirah)
w/ Skrillex – Bangarang VIP unreleased]
30. X Japan – Endless Rain ((Skrillex & Yoshiki Live Cover)
31. Benny Benassi – Cinema (Skrillex Remix)
w/ Skrillex – Scary Monsters And Nice Sprites VIP unreleased] ((Skrillex & Yoshiki Live Cover)