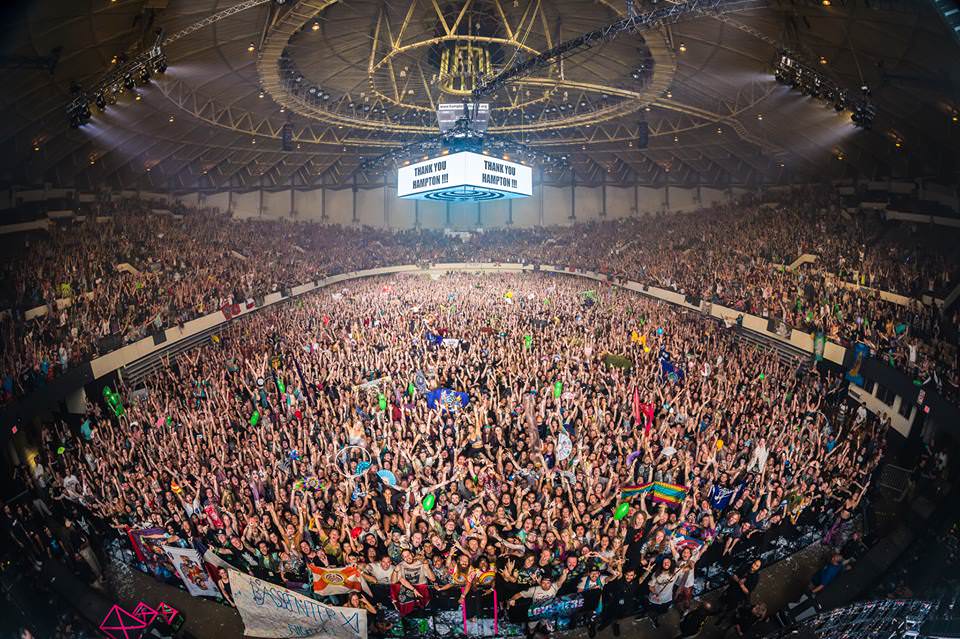 This Labor Day weekend has been quite the turbulent one for Bassnectar and fans. Saturday and Sunday became the 11th reunion at the Bass Center in Hampton Coliseum Hampton, VA. Nectar's wild Basscenter set is not the focal point here, but the way he publicly handled an accidental leak by a prominent artist is.
The leak was perpetrated by an artist whom posted a draft sketch on Instagram, without even realizing he revealed the lineup ahead time. A secret plan was orchestrated to surprise fans with the reveal Nectar's famous NYE event. (Which through enough investigative research, could have been achieved before the incident.) The world famous spiritual artist Chris Dyer was given the green light to design the NYE 2018 lineup poster by "some1", according to Lorin.
-an apparent lack knowledge in a small important detail regarding information security.
Unfortunately for the players involved, and thousands bystanders – Lorin Ashton went f in a condescending tone on Twitter calling out Chris Dyer and his art, all at one fell swoop.
"it was honestly the nicest thing I could have possibly said to him in that moment being gutted"
Reading Dyer's ficial post in response to this media storm, we see that he was not asked to sign a Non Disclosure Agreement NDA – (an agreement between parties involved that restricts the disclosure sensitive information). Chris was not told the sensitivity the event either. He subsequently approached the situation with humility and grace, apologizing for ruining the surprise.
"social media is a hex, we'll use it when we have to but encourage you to UNPLUG"
Perhaps it is time for Lorin to understand when it's best to put the phone down. This is not the first time he has went f on Social Media. Recently, Nectar called out the religious faith and Conservatives. Whether or not you agree with the political motive, he certainly rustled jimmies with that post.
Was Lorin in the wrong for reacting the way he did? Or was Chris wrong for mistakenly posting a sketch out excitement for his friend's event?
In conclusion we can hope Nectar and Dyer's relationship can be mended, maybe allowing Chris another shot at designing now that the cat's out the bag? Let us know what you think the usual social media!
Check out our ficial EDMTunes playlist for the freshest tracks - updated weekly!