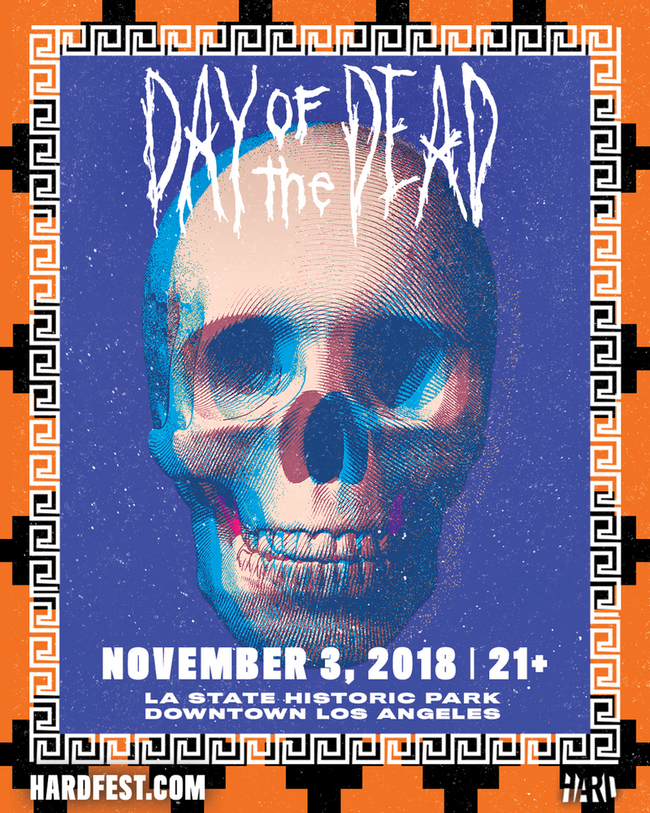 HARD Drops Lineup For Day Of The Dead
HARD Day the Dead has ficially been resurrected. The ficial date has been set for November 3rd, 2018. Having previously held Zedd In The Park at the LA's State Historic Park, Insomniac will be returning with Day Of The Dead right in the heart Downtown LA.
In years past the event was known as Hard Haunted Mansion, and it was later rebranded to Hard Day Of The Dead. It has been nearly three years since HARD has held the beloved event. Headliners around the world couldn't be happier. It is known that DOTD became a 21+ event after an executive decision by then owner Gary Richards (AKA Destructo). The reason for this was due to multiple attendee deaths.
Day Of The Dead Lineup
If you've had the chance to attend you know how amazing it was to attend. Rightfully so, this also means you know how sad it was to see it go. The event was known for the epic lineups it has always featured It seems that this years DOTD will be no different. Another reason the festival was so well received, was because the new talent it continuously showcased. One prime example this is Marshmello, as it was actually his very first show. You can even throw Rezz into that conversation. Now that Insomniac holds the reigns, it will be interesting to see the direction that they take Day Of The Dead In. With the announcement todays lineup, it seems they are picking right up where Richards left f.
This years lineup see's the return many its previous artists, and we do not mind in the slightest. These are huge names, that we couldn't be more excited to see, such as Skrillex, Deadmau5, and Gesaffeelstein. If you continue down the line you'll see familiar names we haven't seen in a while such as Boys Noize, and The Bloody Beetroots. This makes things interesting, as having Skrillex & Boys Noize on the same lineup opens the door to a possible surprise Dog Blood set. They've been missing since Hard Summer '17, and prior to this it was Red Rocks in '15. Other notable acts include everyone from Rezz, to AC Slater, GTA, Chris Lorenzo, and even Virtual Riot. As for the newcomers we've got Blackgummy, Quix, RickyxSan, and Holy Go. This last one is exciting, has he was recently featured on Jauz's debut album.
More Info
It should be noted that these are only a fraction the announced acts. You should also keep in mind that DOTD is only one day. This is REALLY going to be a stacked event. Check out the full lineup and let us know what you think. Who are you most excited for? As now, no information on tickets, or prices have been confirmed. For more information, be sure to check out the link below.
For More Information Check Out: https://daythedead.hardfest.com
Check out our ficial EDMTunes playlist for the freshest tracks - updated weekly!