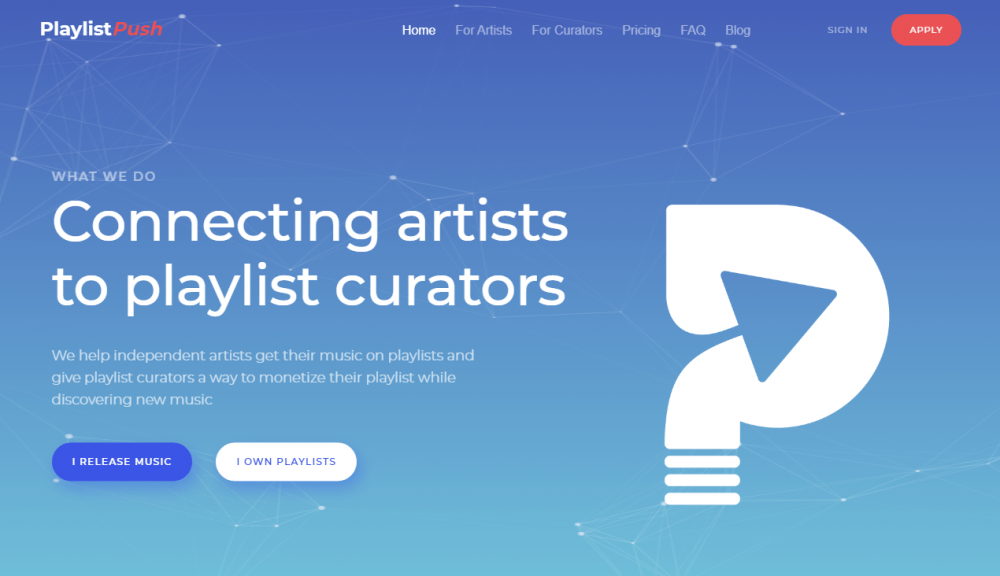 As April 29, 2019, Spotify became the first music streaming platform to reach 100 million paid subscribers. At the same time, Spotify had reached a milestone a total 217 million monthly active users. With Spotify dominating the music landscape, musicians have turned less revenue from CD and vinyl sales, and have shifted their attention to Spotify and music promotion. While musicians desire to land on Spotify's mint playlist for electronic music or RapCar for rap music, chances are slim to land on some Spotify's biggest playlists without the fanbase some the world's biggest musicians. Because this, many musicians have turned to independent Spotify playlist curators to try and get recognized in the music industry and thus, was born.
Disclaimer: This post may contain affiliate links, meaning we get a commission if you decide to make a purchase through our links, at no cost to you.
What is Playlist Push?
helps independent artists get their music on non-Spotify branded playlists and also gives the ability for playlist curators to monetize their playlists while discovering new music. Playlist Push has set up an online marketplace for musicians to get picked up with a number playlist pitching campaigns. features more than 800 curators and their playlists have a combined total reach more than 25 million listeners.
Playlist Push Features
When applying for your very own Playlist Push campaign, the service will ask you for your song, social links, artist hometown, and the type music the song is. Before submitting for review, Playlist Push asks whether you wish to spend less than $250 or more than $250. Playlist Push does not use fake accounts to foster your Spotify growth, but instead carefully vets their playlist curators and will assign different rating criteria based upon how many listeners the playlist has, how active it is, and how well the song is discovered on its platform.
Playlist Push Pros and Cons
Pros
Playlist Push has come a long way for their artists. Playlist Push monitors Spotify curator's accounts for any suspicious activity, playlist name changes, fake or inactive followers, multiple accounts, and several other violations within their service.
Feedback from each playlist curator is customized with unique written feedback.
The service has 4/5 stars on TrustPilot with more than 235 reviews.
Cons
The price is expensive for a lot newer musicians.
Playlist Push Pricing
PlaylistPush Campaigns typically start at $185 and will run for two weeks. The price the campaign will increase depending on genre popularity or by adding multiple genres within the song submission form. While Playlist Push works with all genres, the service has a strong focus on pop, hip hop, and indie rock due to its popularity from the curators.
>> <<
Have you tried PlaylistPush before? Let us know in the comment section with your reviews and feedback.