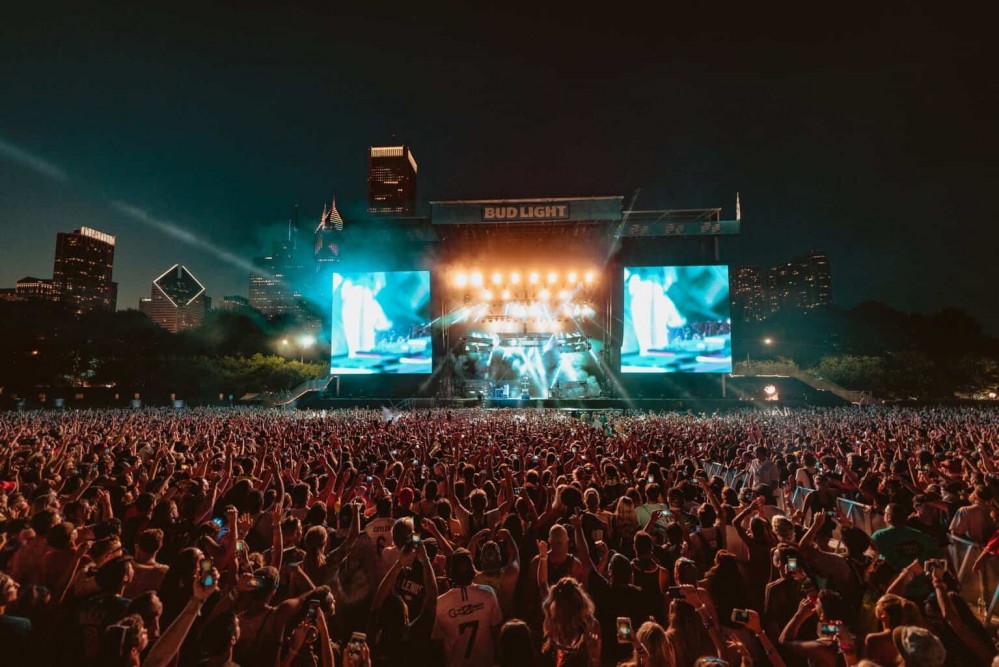 I had the wonderful opportunity to attend my third Lollapalooza this year. Going in I wasn't sure what to expect from this year's festival since it almost didn't sell out, which would've been a first in Lolla's history. Some that might have had to do with expanding the diversity the closing headliners from rock legends in the past to artists like and Ariana Grande.
During my time in Chicago there wasn't a cloud in the sky for the four day event, making it a bit a scorcher. Festival goers were doing their best to beat the heat and take advantage the multiple water stations throughout the park and find shade at the stages. Unfortunately, it wasn't uncommon to see the medical staff attending to those who didn't take care themselves.
The following are my day-by-day highlights. As with any festival, there were times where I would have to stage-hop in order to enjoy some other music I was looking forward to hearing at the same time. During this journey I also took some time to enjoy the smaller sites on the grounds alongside fellow music lovers.
Day One:
I arrived in Chicago Thursday morning after a long, but smooth drive from Minneapolis. After checking into my AirBnB, showering, and pounding a cfee, I jumped in an Uber and headed towards the grounds Grant Park. It didn't take long after entering the main gate to recognize the festival set up. From my past experiences the main stages have remained in the same locations, with the exception some name changes.
After a quick scan the grounds, I met up with Elephante to talk about his new music and even some side barbeque talk. He later jumped onto the Perry's stage, which hosted most the EDM performances. Elephante played an energetic set and debuted his latest track "Diamond Days".
Shortly after, while walking down one the side streets, I heard Daft Punk's "One More Time" being blasted. As I got closer, I realized it was Win & Woo playing at Bud Light's new Dive Bar stage, which as you could tell by the name only held around 30 people on a small dance floor. A very cool and intimate setup indeed. Later that night Win & Woo played at the Tito's bandshell where they brought out their friends Louis The Child.
Rüfüs Du Sol played a beautiful set at sunset at the Bud Light stage, which was the North-most main stage. Although their lighting production was minimal due to the sunset, Rüfüs Du Sol still mesmerized me with their music, playing hits like "Say A Prayer For Me". Overall this was one my top sets the weekend and could have easily been a headlining set.
After the sun had set, the bass heads came out from their caves and experienced quite a ride when Gud Vibrations (Slander & NGTMRE) teamed up in a "DJ battle" against Slugz Music (Snails & Svdden Death). The Strokes ended the night at the T-Mobile stage, which was the southern main stage on the grounds. The Strokes had the crowd all ages dancing and smiling, especially during their encore "Last Night" performance.
Day Two:
I began day two with something a bit unexpected at a music festival. HBO was on site with an air-conditioned theater tent playing a screener pilot "Righteous Gemstones". The show stars John Goodman, Adam Devine, Edi Pattersoni and Danny McBride as a famous television preacher family that are corrupt when the TV cameras are f. As with most pilots, it was focused on building the story and not featuring enough comedy.  There is an awkwardly long projector scene that got some big laughs in the room, though.
Right after the screener I heard a set from Calboy leaking through the trees the American Eagle stage, a stage tucked away in the Northwest corner the grounds. When I made my way into the trees the timing couldn't have been more perfect as Chance The Rapper ran across the stage to perform "No Problem" and "Get A Bag".
After Calboy I stopped by my first food vendor the festival, Chicago's Tank Noodle for a perfectly-sized bahn mi sandwich. You can't go wrong with the food vendor options, which literally runs down the street in the middle the grounds. They had everything from Chicago-style pizza to smoothies. Unfortunately, it seems the rumors were true that the infamous lobster corn dogs did not make an appearance this year.
I joined a friend at the cocktail lounge to check out the hidden gem this year's Lollapalooza. Tito's Vodka set up an arcade crane game where you had a chance to pick up a fanny pack that contained a pair wristbands to the other Tito's sponsored lounge, which provided free Tito's cocktails for the day. Luckily the person in front my friend loosened a fanny pack just enough to where he could pick it up and win it. For the rest the day we got to enjoy some drinks with a great view the Tito's bandshell and Bud Light stage.
For the next few hours I would catch some sets at Perry's. Cray, the streamer turned DJ, kicked f my Perry's experience. She played a bass set, included a hard-hitting remix Skrillex's "Cinema". Yultron followed up Cray's set with a spread old school Dubstep style tracks. Later, brought out a drummer to feature throughout his set, including during a remix 's "The Wolves". Party Favor played a Mad Decent set with a hardstyle twist. Matoma performed a bass house set along with some energetic remixes. Alesso would wrap up Perry's on day three with his big room sound and an incredible laser and pyro production.
Ending the night for me was Childish Gambino on the T-Mobile stage. Gambino wanted everyone to focus on the music and not their technology, telling the crowd to enjoy the experience. In the second half the set he jumped f stage and bent a bit his own rule, taking phones from fans and taking selfies with them. Gambino had a powerful energy throughout his set. He added his signature hip-thrusting dance moves and used his acting skills to make eye contact with the camera whenever he pleased. After an encore "Redbone", day two was a wrap.
Day Three:
Friday afternoon I met up with Jonas Blue. We talked about his big collaborations such as "Ritual", and the recent launch his new label Electronic Nature. Shortly after the interview, Jonas made his way to the Perry's stage where he performed his hits like "I Wanna Dance" and "Fast Car", as well as a massive mashup The White Stripes' "Seven Nation Army", Billie Eilish's "Bad Guy", and Benny Benassi's "Satisfaction" that blew the crowd away.
The rest the day I found myself hopping between only three the many stages at Lollapalooza: Perry's, Bud Light and American Eagle. Gryffin dropped a set that had more a bass focus than his usual sets. He also debuted his track "Baggage" and brought out Elley Duhé for "Tie Me Down". RL Grime brought the darkness to the Perry's stage later in the night with a red washed backlight and lots pyro.
J Balvin at the Bud Light stage was a set I had been looking forward to all day. His set lived up to expectations with a great mix reggaeton and slow Latin music throughout. He also performed "I Like It" alongside featuring the large Cardi B and Bad Bunny mascots.
I tucked away into the trees the American Eagle stage to watch a beautiful set from Madeon. As expected, his set brought some fans to tears as he debuted live tracks from his new album "Good Faith". After a flawless set, Madeon was also feeling the energy, thanking his fans for coming to the show on the mic. He told the crowd how recently he came across an email he wrote to himself two years ago.  In the email was a message that included what he hoped his future music would be what he wanted it to be. He told fans that now he can live up to that message.
Day Four:
It took some time to convince my body to get out the door for day four. However, Sunday was the lineup I was looking forward to all weekend and I knew I would be seeing more full sets instead stage-hopping, which meant less treks across the grounds. I arrived at Lolla just in time to make it to Perry's to see the entire set from CamelPhat. I danced my pain away as my body found itself dancing closer to the stage, closer than any other performance the entire Lolla weekend.
After a short break from an hour dancing, I walked past Perry's on my way to the Bud Light stage. The timing was perfect as I heard DJ Diesel (aka Shaquille O'Neal) holler on the microphone "Can you dig it?!" I arrived at the full capacity Bud Light stage as Louis The Child performed alongside the Chicago Bulls dance team. The hometown boys played all their well-known tracks as their friends, family, and fans sang along. The crowd also occasionally pointed their phones towards the sky as an airplane wrote "LOUIS", "LTC", "SMILE" and the duo's crown symbol in the sky during the set. Wafia was brought out as well as a Chicago choir to help perform "Better Not" as the finale.
At the end the night, I took one final picture the fountain in the center Grant Park and went to see Flume at the Bud Light stage to end the night. Flume brought out Reo Cragun for a couple their collaborations, including "Friends". There was also an appearance by Vera Blue for an unreleased ID that had an overwhelming reaction from the crowd. Besides a bit where Flume transformed into a sort digital android on the screen, there wasn't much for over-the-top production. He did, however, spelled out "Chicago" with a power grinder and took a sledgehammer to one his monitors during "Wall F*ck". The set ended with "You & Me" as Flume, Reo Cragun and Vera Blue took a few minutes to run up and down the crowd and thank the fans for coming.
Final Thoughts:
Overall, this year's Lollapalooza had its fair share ups and downs. None the acts I caught over the four days attending were flops. When you weren't catching live music, there were plenty popup booths to check out. The food and drinks were enjoyable. Lollapalooza staff was friendly and its facilities were all well put together. Unfortunately, the takeover the younger attendees was a noticeable con this year. After hearing multiple reports fence hoppers, getting my Toyota Lollapalooza bandanna stolen (which was later replaced thanks to the wonderful Toyota staff), and seeing people getting wheeled out the festival, you start to think that Lollapalooza is just an excuse to get out the parents' house for a weekend party and not to enjoy a music festival for well, the music. In the end, however, it's hard not to enjoy Lollapalooza as you experience artists new and old all genres with the beautiful skyline Chicago watching over you.
Banner photo by Roger Ho/Lollapalooza 2019