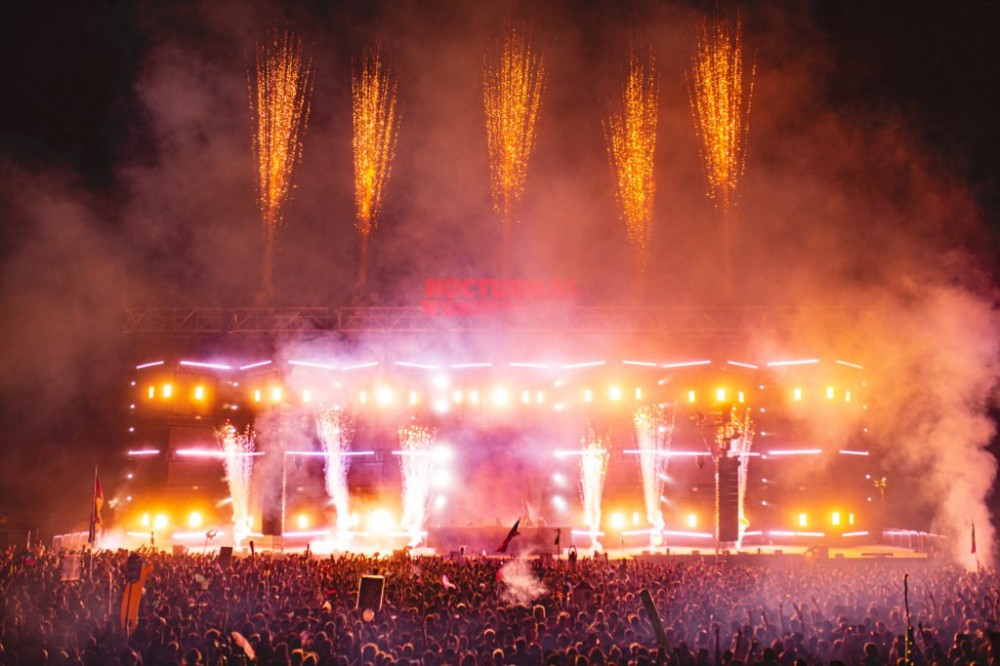 The 24th edition Nocturnal Wonderland, America's longest running rave, went down last weekend in San Bernardino, CA. 80,000 headliners descended upon Glen Helen Regional Park to celebrate the festival's final edition at the venue. Although there were some slight tweaks to the layout the festival this year, Nocturnal has stayed relatively unchanged since it scaled down to two days in 2017. That's part its charm, as America's longest running rave; it's a comfortable home for ravers young and old. I didn't camp this year, though I have in the past, and it's absolutely delightful. Since there's not really anything new to say about Nocturnal (at least until we find out the venue for next year), let's assign some grades to this year's edition the festival.
Lineup: Grade A
Insomniac lineups never disappoint and this year's Nocturnal was no different featuring some the biggest names in dance music like DJ Snake, Jauz, Zeds Dead, Zomboy, Deorro, Malaa, Alan Walker and more. However, this year's lineup was also very highly curated, as each stage seemed to cater to very specific tastes. The main stage is obviously meant to appeal to the widest possible audience, but house reigned supreme all weekend. If you were like me and were waiting for the madness DJ Snake, you might have been very pleasantly surprised by artists like Chris Lorenzo and Dr. Fresch. The new location the Labyrinth stage (more on that in a minute) also made it very conducive for bassheads to stay at the top the hill and enjoy the curated Deadbeats and Bassrush stages. You will never ever be disappointed by an Insomniac lineup.
Festival Layout/Accessibility: Grade C+
The biggest change to the layout this year's festival was the relocation the Labyrinth stage from the lower part the venue to up on the notorious hill. It had both pros and cons; first it made the viewing area for the stage that much bigger, and the stage was situated downward to make the stage its own amphitheater. This allowed people to sit and chill throughout the day, there were plentiful food and drink options lining the right side the stage, and the porta-potties were nice and tucked away, making it a nice option. On the downside, it is a mission getting up the hill, and for me personally, I was a little discouraged from making frequent trips from the Wolves' Den all the way up the hill (although anyone not camping had to leave that way eventually).
It was also absolutely brutal getting into and out GA Parking on Night 1. Through a combination traffic heading toward San Bernardino from Los Angeles and tardiness on my part, I didn't even arrive until 7 PM. It took an hour just to get down Glen Helen Parkway into the far reaches parking. To make matters worse, after a long trek from the venue, it took people upwards two hours to exit the venue and get back on the freeway. I arrived much earlier on Day 2 and the overall consensus was that it was far easier to get in (and it would be to get out, too). As one headliner I met in a drink line so succinctly put it regarding Day 1, "If you didn't get here by 6 PM you were fucked." It's a tough job getting that many cars parked and I didn't see any immediate cause or solution to the problem (other than getting there earlier), it just sucked.
Production/Stage Design: Grade A+
This is mostly for the Wolves Den, but I absolutely loved this year's stage. The stage was lined with massive columns LED cubes, surrounding a main screen. There was pyro, there were fireworks, and there were also the most impressive lasers I can remember seeing at Nocturnal. Heck, even the art car had some intense lasers. There was all the traditional blacklight artwork around the festival grounds, there were plenty great photo ops, and the misters over the main walkway leading into the festival can't be beat.
There you have it, another year, and another successful Nocturnal Wonderland. It is bittersweet to reflect on the fact that this was the last time this festival will be held at Glen Helen Regional Park (where it's been since 2013). However, make no mistake, there will definitely be Nocturnal in 2020, the festival's landmark 25th edition. While we don't know where it will happen, headliners can rest assured that Insomniac head honcho Pasquale Rotella is already hard at work trying to find a new venue. It's still a tall task though, as one Nocturnal's defining features is its camping aspect, something I'm sure Pasquale will want to preserve. Insomniac will return to San Bernardino to celebrate Halloween with Escape Psycho Circus October 25-26 at NOS Events Center.