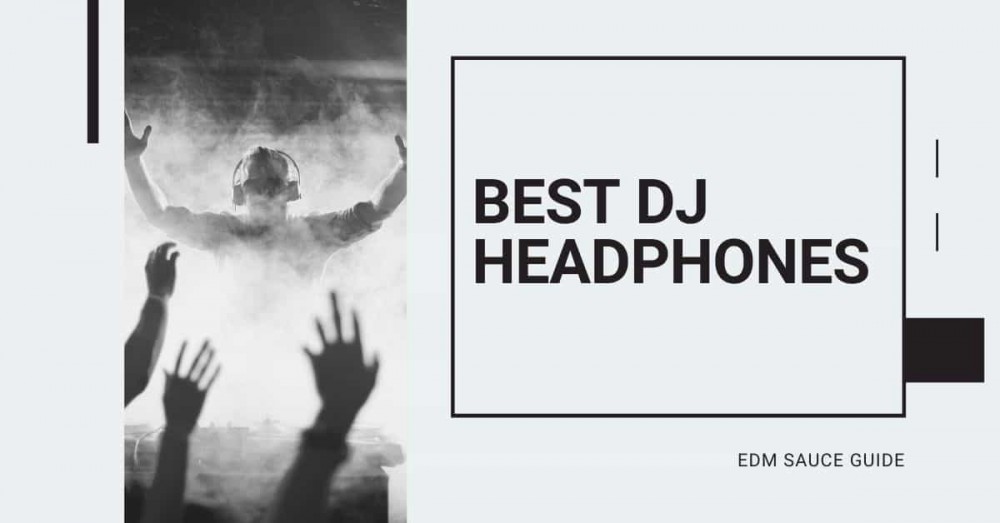 Even the most advanced DJ setup is never complete without a pair reliable, high-quality headphones. Whether you're just starting out or you've been at it for years, the right headphones will help you master your Djing craft as you experience clear audio in your head.
Today, we're reviewing the top 5 DJ headphones available on the market and presenting you with a detailed buying guide to help you invest your money in the best DJ headphones for your needs. So let's not waste any time and get this party started!
Table Contents
5 Best DJ Headphones
V-MODA Crossfade M-100 Over-Ear Noise-Isolating Metal Headphone (Matte Black Metal)
Connectivity Technology: Wired
Award-winning M-Class sound tuned by over 200 audiophile aficionados
Patented 50mm Dual Diaphragm Drivers to separate bass from mids and highs
Clean deep Bass, Vivid Mids and Ultra-Extended Highs tuned by industry editors and audiophiles
Unique CLIQFOLD design for compact storage ; Type: Over-Ear Circumaural
$200.39
Buy on Amazon
Kicking f our list with an excellent choice for both amateurs and pressionals, the V-MODA Crossfade M-100 Metal Headphone is the improved successor the company's original V-MODA M-100 headphones, which you could see on the heads DJs across the globe.
The Crossfade M-100 delivers equal attention when it comes to both design and construction. At first glance, you can't miss the unique hexagonal shape the cups. Taking a closer look, you can tell just how good the build quality is.
The headphones are made premium materials, including a steel frame and metal accents to support stress points that take the most beating. Still, they're lightweight (at 9.8 ounces) and equipped with a low-prile headband, providing just the right amount pressure to secure the headphones over your head without causing pain over long DJing sessions.
Not only are the ear foam cushions incredibly st and comfortable, but also the two included Kevlar cables (1-Button Microphone and SharePlay) have a luxurious woven feel and a great resistance against wear and tear.
As for the sound quality, it's another aspect where the Crossfade M-100 surpasses the original M-100 with a wider soundstage and a more pronounced bass separation thanks to the patented dual-diaphragm system. The noise isolation feature fers an immersive audio experience, although not exactly ideal for larger ear sizes.
The Crossfade M-100 is also special when it comes to versatility, serving your DJ booth and studio needs as efficiently as possible. There's a shield customization option that allows you to change the shield material or color and engrave your logo by laser, so you can get your headphones to truly represent your brand.
The V-MODA Crossfade M-100 Headphones isn't the cheapest candidate, but a lot DJs think it's well worth the money, given the remarkable quality aesthetics, sound, and construction.
Specs:
Type: over-ear
Frequency response: 5Hz – 30kH
Weight: 9.8 ounces
Case: hard sleeve
Rotating cups: No
Pros:
Exceptional base separation
Amazing sound quality
Cushioned foam molds to your ears
Durable build
Dual-diaphragm design
Customization options
Cons:
Sennheiser Pro Audio Sennheiser HD 25 Pressional DJ Headphone, Black, 1 (HD25)
High sensitivity due to lightweight aluminium voice coils
Capable handling very high sound pressure levels
Very lightweight and comfortable, even if used for long periods time
Tough, detachable, single-sided cable
Rotatable capsule for single-ear listening
$149.95
Buy on Amazon
The Sennheiser Pro Audio HD 25 is a widely popular headphone among DJs worldwide such as Afrojack and Calvin Harris. In almost any online discussion regarding what headphones a DJ should use, the Sennheiser HD 25 is bound to come up.
These headphones fer outstanding value for money as they deliver reliable performance when it comes to features that matter the most to DJs, namely sound quality, weight, and longevity.
The Sennheiser HD 25 adopts an on-ear style, but surprisingly, this barely affects the level noise isolation so it doesn't fall that far behind over-ear models.
They rest against your ears with enough pressure for clear audio reception without ever being too harsh or painful. The ear cushions aren't the stest you can buy, but their incredibly lightweight construction makes up for it big time, weighing only 5 ounces.
Don't let this fool you though, these headphones are seriously durable and they can serve you for many years. Their design is nothing fancy, but they do support rotating cups so you can do some single-ear mixing.
When it comes to sound quality, the Sennheiser HD 25 really steps up. They fer an impressive low-frequency response, with a bass dynamic that can only be described as an on-point punch. The mids and highs are also pretty good, which is the work the highly sensitive aluminum voice coils.
The Sennheiser HD 25 has parts that are all replaceable, including a detachable auxiliary cord that's not common to see on headphones in the same price range. It comes with a st carrying bag that we're not too crazy about.
Specs:
Type: on-ear
Frequency response:16Hz – 22kHz
Weight: 5 ounces
Case: st bag
Rotating cups: Yes
Pros:
Support rotating cups
Detachable auxiliary cable
Very lightweight
Impressive frequency response
Great value for money
Cons:
The design isn't very attractive
Could use extra padding
Audio-Technica ATH-M50x Pressional Studio Monitor Headphones, Black
Critically acclaimed sonic performance praised by top audio engineers and pro audio reviewers
Proprietary 45 millimeter large aperture drivers with rare earth magnets and copper clad aluminum wire voice coils
Exceptional clarity throughout an extended frequency range, with deep, accurate bass response
Circumaural design contours around the ears for excellent sound isolation in loud environments
90 degree swiveling earcups for easy, one ear monitoring, and pressional grade earpad and headband material delivers more durability and comfort
$149.00
Buy on Amazon
The Audio-Technica ATH-M50x Headphones are an excellent choice for DJs who can't afford to pay top-dollar for high-end headphones but still need a reliable pair that doesn't compromise on audio quality.
While they don't particularly shine in the department live shows, thousands DJs still recommend the Audio-Technica ATH-M50x as one the best studio-level headphones out there for music production.
They deliver a well-balanced tonal prile with superior clarity thanks to the extended low-frequency response and the deep, punchy bass. There's a slight bump in the highs, but this is what makes these headphones widely versatile for DJing.
What we really appreciate about the Audio-Technica ATH-M50x is the sound isolation that'll save your hearing from loud noises at busy clubs. It's truly impressive with minimal sound leakage, owing to the oversized design the ear pads.
The construction these headphones is mainly plastic, which isn't exactly luxurious, but durable nonetheless. Just be sure not to put too much strain on the plastic hinges or swivels (by frequently throwing or dropping your headphones) to avoid snapping them broken.
The Audio-Technica ATH-M50x Headphones feature 90° swiveling ear cups, so you get to do some one-ear action or wear the headphones around your neck while still being able to comfortably hear the music. It comes with both straight and coiled cables that attach to the left ear cup.
Specs:
Type: over-ear
Frequency response: 15Hz – 28kHz
Weight: 10 ounces
Case: st bag
Rotating cups: Yes
Pros:
Great noise cancellation
90° swiveling ear cups
Comfortable design
Balanced sound prile
Comes with 3 cables
Budget-friendly option
Cons:
Plastic construction feels a bit cheap
Not ideal for live gigs
Sony MDR7506 Pressional Large Diaphragm Headphone
Neodymium magnets and 40 millimeter drivers for powerful, detailed sound
Closed ear design provides comfort and outstanding reduction external noises
9.8 foot cord ends in gold plated plug and it is not detachable; 1/4 inch adapter included
Folds up for storage or travel in provided st case
Frequency Response: 10 Hertz to 20 kilohertz
Buy on Amazon
The MDR7506 Headphone is another widely popular candidate from the globally renowned brand Sony.
Although not specifically built for DJing, these headphones received thousands positive reviews from both amateur and pressional DJs. After all, the MDR7506 does put out terrific audio quality, so why not make use it in mixing music?
Of course, there's also the advantage these headphones being super affordable, which is always a plus for DJs on a tight budget.
The Sony MDR7506 Headphone features neodymium magnets and a 40mm driver unit for clear, powerful sound output. The mids and highs are beautifully balanced while the bass response is better than average quality. It may be true that the low frequency isn't quite enough for live gigs, but it hits the right spot when it comes to studio mixing.
The Sony MDR7506 boasts a durable construction despite being made plastic, so it can stick around for extended periods if you take care it. These headphones come with a pretty long 9.8-foot cord, which makes moving around while wearing them a whole lot easier.
Even though you get so much "give" from the MDR7506 Headphone thanks to its cord length, it doesn't include nearly enough padding to be considered comfortable for long DJing sessions.
Specs:
Type: over-ear
Frequency response: 10Hz – 20kHz
Weight: 8.1 ounces
Case: st pouch
Rotating cups: No
Pros:
Proper sound quality
The long cable allows for easier movement
Foldable frame to facilitate storage
Great for home use
Affordable choice
Cons:
Not comfortable to wear for long periods
Not the best choice for live gigs
Sale
Status Audio CB-1 Closed Back Studio Monitor Headphones
STUDIO STANDARD: Praised by top musicians, producers, and audio engineers, the CB-1 headphones are an industry standard in recording studios around the world. The CB-1s have received critical acclaim from the most discerning audiophiles on the web as well as top technology editors.
50MM Drivers: Large 50mm drivers deliver studio quality audio with a wide, expansive soundstage that puts you in the room with your favorite musicians. Hear music the way the artists, producers, mix and mastering engineers intended.
DESIGNED FOR COMFORT: The CB-1's padded headband and overstuffed earpads were designed to be comfortable during multi-hour recording sessions. Its over-the-ear design fully encloses ear, fering passive noise cancelling without putting extra pressure on your head. The CB-1's adjustable headband ensures a snug fit on your head, and clicking ridges allow for full customizability. .
TWO CABLES INCLUDED + ¼ ADAPTOR: The CB-1 comes with two 9-foot audio cables - one coiled, one straight. Both have a custom locking mechanism that keeps them attached to the headphones, eliminating the risk dislodging the cable. The CB-1 is compatible with any 3.5mm audio cable, but it will lack this locking feature. We also provide a ¼ adaptor plug for use with pressional audio equipment.
UNDERSTATED STYLE: The CB-1's minimalist, unbranded aesthetic will never lose its luster or fall out fashion. A slim frame doesn't awkwardly protrude sideways, and the CB-1 can be folded to become compact for travel.
$59.00
Buy on Amazon
Last but not least, the Status Audio CB-1 Headphones is definitely one the best DJ headphones you can get your hands on for less than $100.
These headphones are quite impressive in terms flexibility and versatility. They perform well both inside the studio and outside. Of course, live mixing isn't the unit's strongest suit, but at such a low price no one can really complain.
The Status Audio CB-1 Headphones comes with 2 detachable cables (1 straight and 1 coiled), plus a folding build to make it easier for you to carry and store your gear.
Once again, we can't expect phenomenal sound quality from the Status Audio CB-1 Headphones given its price tag. Compared to other models on our list, these headphones deliver a neutral tonal prile decent mids and highs. They don't really focus on low frequencies, so you'll have to make it up with your skills.
On the good side, the ear cups on these DJ headphones are very st and comfortable, with adequate density to prevent painful pressure during long wear. Additionally, the closed-back design boosts passive noise cancellation for overall improved performance.
The Status Audio CB-1 Headphones isn't just a reliable choice for budget-conscious DJs, but it's also a fantastic option for beginners and a good idea to use as spare headphones for your pressional DJing ones.
Specs:
Type: over-ear
Frequency response: 15Hz – 30kHz
Weight: 13.2 ounces
Case: No
Rotating cups: Yes
Pros:
Easy to store and transport
Passive sound isolation
Low price point
Makes a great spare headphones
Attractive design
Cons:
Not the best audio quality
Limited low-frequency response
How to Choose the Best DJ Headphones?
When shopping for the best DJ headphones, you should first take into account the following features so you can buy the right pair headphones to suit your needs.
Sound Quality
Right f the bat, your main concern should be the sound quality. Your DJ headphones aren't the same as audiophile headphones, which means you're not looking for flawless reproduction.
Instead, keep an eye out for deep, punchy bass and clear highs. You want headphones that emphasize low frequencies without overlooking the mids and highs.
Comfort
Since you'll most likely be wearing your headphones for extended periods during long mixing sessions or live gigs, you need them to be as comfortable as possible. This means that the ear cups should be covered in ample padding and cushioning foam to avoid itching, redness, or anything that may hurt your ears.
Weight
In line with the previous comfort feature, you should also consider the weight your headphones. Not only are lightweight headphones more comfortable to wear for long-term use, but they're also easier to move around with, transport, and store.
Open Back vs Closed Back
This one is actually a no-brainer for any DJ: closed-back for sure! While open-back headphones provide a more dynamic bass response, they work better for experiencing audio priles in quiet conditions.
As a DJ, this will barely be the case. Your job is all about mixing music so you need to be able to clearly hear this music in any environment. Closed-back headphones allow you to focus entirely on your music by eliminating the outside noise.
Design
Finally, you can't forget about how your headphones look! After all, these headphones will mirror your style and how you want to present yourself. So, the most important tip in this aspect would be to just pick something that you like!
Wrap Up
Choosing the best DJ headphones can sure get confusing, especially with all the different features and specs flying around! However, we're confident that once you go through our buying guide and reviews, you'll be able to land the perfect DJ headphones for your needs.
That being said, if you're looking for a reliable pair that delivers superior sound quality, amazing comfort, and durable construction, then the V-MODA Crossfade M-100 Metal Headphone should be right up your alley!
The Sennheiser Pro Audio HD 25 Pressional DJ Headphone is another wonderful choice if you're looking for great value for your money coupled with an impressive frequency response and a lightweight build.
Also Read: