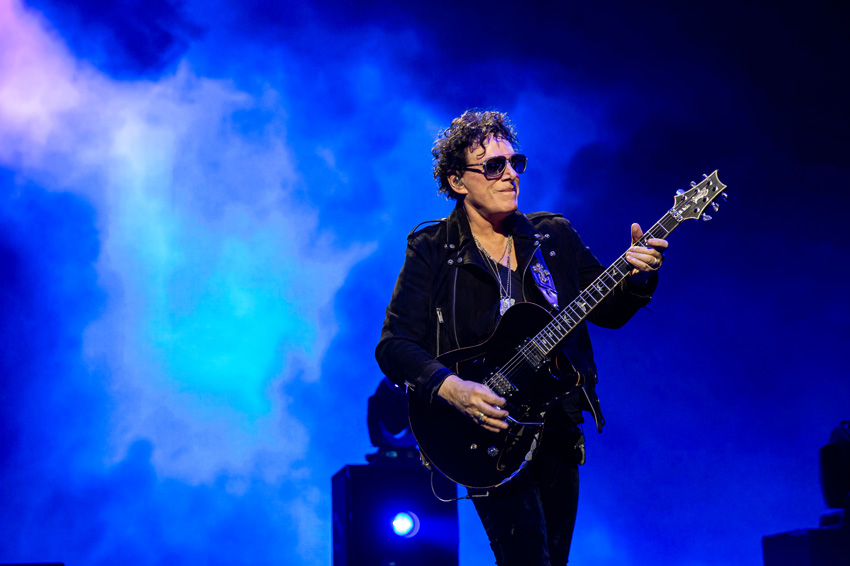 1 - Neal Schon - Universe
American rock guitarist, songwriter, and vocalist Neal Joseph Schon best known for his work with the bands Journey and Bad English has just dropped his brand new album Universe. He was a member of the rock band Santana before forming Journey, and was also an original member of Hardline.
Schon was inducted into the Rock and Roll Hall of Fame as a member of Journey on April 7, 2017.
Neal Schon has released his ninth solo album, Universe, a magical and timeless take on rock and roll's most iconic songs ever, such as "Something In The Heart."
2 - I Prevail - Every Time You Leave
I Prevail crossed over into other genres in 2020 - including on "Feel Something," a track with EDM superstar Illenium. They also partnered with celebrated rap dynamo Joyner Lucas on the Trauma track and video "DOA." The band also shared a moving and intimate, acoustic live performance video of the latest single "Every Time You Leave," which was recorded during the COVID-19 quarantine. The track features Juno-nominated Canadian vocalist Delaney Jane, adding a rich element of male/female vocal interplay that highlights the rawness of the heartfelt lyrics. It also showed the softer, more contemplative side of a band best known for its rock output.
3 - Andy Keels - Get Up Stand Up
In anticipation of his upcoming debut EP, 15 Years (out January 15), Surrey born singer-songwriter Andy Keels ushers in the new project with his latest release "Dead To Me," and "Get Up Stand Up" - infusing elements of indie-rock and rolling drum patterns to create his 80s inspired soundscape. After many years of writing, Andy headed to the prolific Germano Studios in New York, earlier this year to work with Grammy winning engineer and producer, Dave Rowland (The Killers, Kanye West, Justin Bieber, John Legend). With its infectious energy and impressive instrumentation, "Dead To Me" made the perfect debut release, and "Get Up Stand Up" the perfect grunge rock follow-up.
4 - Matt Berninger - One More Second
A singer recognized for his deep baritone, brooding delivery, and contemplative, literate lyrics, Matt Berninger rose to fame during the 2000s as front man of Brooklyn indie rockers The National. Emerging early in the decade amidst a garage rock revival that included bands like The Strokes and The Walkmen, The National drew from a wider set of influences, including alternative country-rock, Americana, and chamber pop as well as post-punk. Berninger's first solo record, Serpentine Prison, was released this year, featuring the beautifully poetic "One More Second" single.
5 - Kelsy Karter - You Only Die Once
Known primarily for her hit, "Harry" about Harry Styles, which went viral due to a fake face tattoo, Kelsy Karter has now released her solo debut, Missing Person.
"LA by way of New Zealand rocker Kelsy Karter is not just solidifying herself as one of the greats in rock-n-roll, she's ruthlessly carving out her own space in a genre that's very much a boy's club. Uncompromising in the pursuit of her dreams and refusing to change for anyone, she sings candidly about the trials and tribulations she's gone through both in her personal life and within the music industry." – flaunt